Plot to Pot Workshop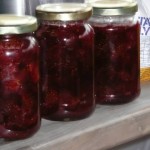 ARCHIVE: September 2013
By Jean Laird
On Saturday 17th August at Ravenscraig Orchard Louise Oliver led a very interesting and enjoyable workshop on preserving. The shed was packed to bursting with people eager to hear Louise's tips.
Louise began by making strawberry jam. She used equal quantities of sugar and strawberries (from the orchard). Louise also advised adding a little lemon juice and proper jam sugar, as it helps with the setting of strawberry jam. When the jam began to boil a fantastic fruity smell filled the shed. Next the jam was poured into sterilised jars with the help of a funnel. The end result did not disappoint- the jars glistened like rubies. I just can't wait to try making my own, and can only hope it lives up to Louise's example.
The jam making was followed by a tea break and there was quite a spread. Louise had made a deliciously sweet courgette loaf, which definitely proved to be a great way to use home grown courgettes. Jimmy, one of the orchard volunteers, had made a banana cake and that was popular too.
Louise's final creation was a wonderful relish which once again contained courgettes. The spices used included whole peppercorns and turmeric. The resulting relish was put into sterilised jars. This colourful relish provided a feast for the eyes, and a taste sensation.
This was certainly an inspiring workshop!
You can download the recipes and some hints and tips from Louise by clicking on the links below:
Apple Rings                Courgette Loaf                       Courgette Relish         Lettuce Tart
Resources                   Some Golden Jam Rules     Strawberry Jam
|