No garden? No problem!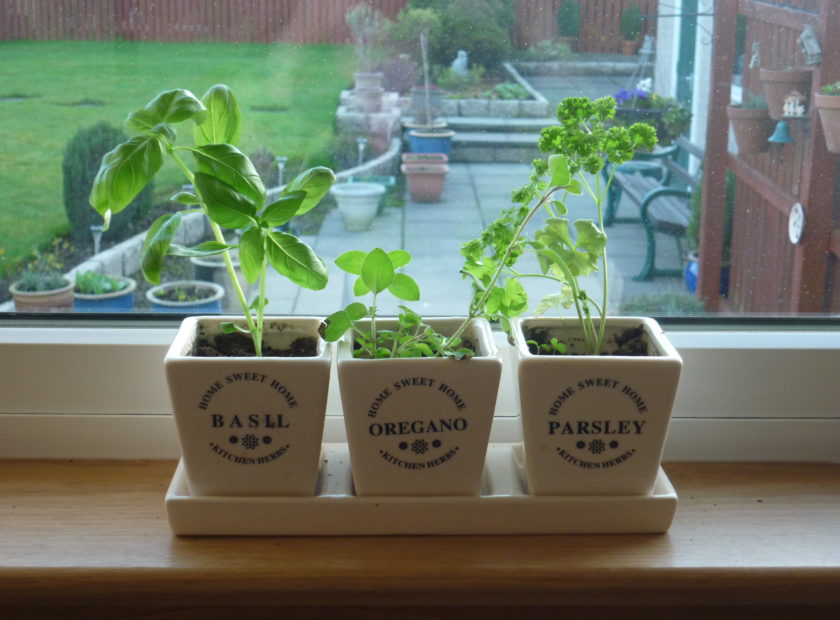 I am in the process of moving into a new flat which only has a small garden which is paved. It got me thinking of alternative ways of having gardens and growing herbs and vegetables in a more non-traditional way.
Windowsills
I was unsure what could really be grown effectively on a windowsill. Here's what I found out:
Basil, beans, carrots or salad seem to be good choices for windowsill growing providing the windowsill gets plenty of sun.

Keep windowsill growing on a small scale as putting too many in one container will cause overcrowding and therefore growth will be minimal. 

Use proper container compost as this will retain water and have nutrients to make growth better.
Water often – containers dry out easily on windowsills.
Plant flowers in containers with veg to add a bit of colour.
Use some imagination and design your own containers instead of buying them.
 Indoor Growing
Mushrooms can be grown indoors in a dark cabinet or cellar by following some simple steps.
Cress can be grown on a paper towel! (I remember doing this as a kid)
Peppers, radishes, green onions, small tomatoes, lettuce and garlic are all possible to grow indoors providing you have the correct conditions.
Container Gardening
If you have a paved area, patio or even a big enough front step you can have a go at growing something lovely in a container. Tomatoes are a good choice and there are even pre-sown mats to make planting even easier! Pots, troughs and grow bags are all good for container gardening, the deeper you can get the better to help to retain moisture.
Rent an Allotment
Another idea is to rent an allotment if you want a bigger space to grow more. There are many benefits to having an allotment. These being:
It's an affordable way of growing your own healthy food.

It reduces your exposure to pesticides as you know exactly how produce was grown.
Gives a great sense of achievement and satisfaction.
Great for the environment.
Come and join in at our community orchard!
We have a community orchard in Ravenscraig Walled Garden in Ravenscraig Park. We welcome new volunteers even if you have no gardening experience but are keen to get involved come on down to our volunteer sessions. These are held every Friday 10am until 1pm or every Saturday 1.30pm until 3.30pm. For more information email @greenerkirkcaldy.org.uk.
|