Make a bird feeder from a plastic bottle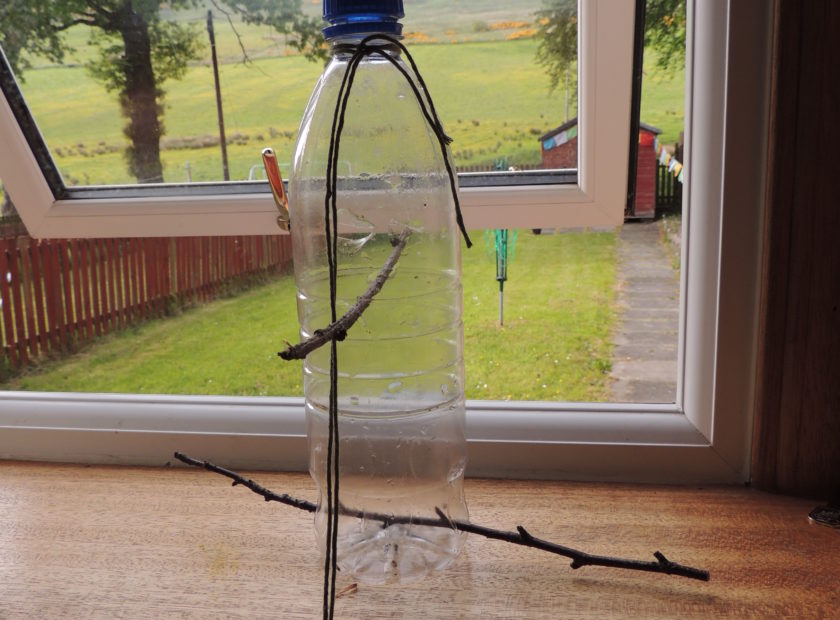 Don't just send all of your plastic bottles to be recycled. Help the birds and reduce your waste with this easy and fun bird feeder.
We reused around 100 plastic bottles on Saturday 4th June at the Rabbit Braes and Linton Lane Gala to make these wonderful little bird feeders!
What you need:
A small (0.5l) plastic bottle
A knife or scissors with a sharp tip
2 sticks (about twice as big as the diameter of the bottle)
A piece of string
Bird food
A funnel (optional)
How to make your bird feeder:
Start by removing any labels from the bottle and rinse it out
Take your scissors or knife and make two holes in the bottle – opposite each other a few centimeters up from the bottom of the bottle. These should be just big enough for the stick to fit through
Next make bigger holes a few centimeters above these holes – these are for the birds to pick seeds from while sitting on the stick below.
Then repeat steps 2 and 3 further up the bottle and put the sticks through (you should have two sticks pushed through the bottle with holes just above on both sides)
Now fill up the bottle with bird seed. It can be helpful to use a funnel if you have one.
Put the cap back on and tie string around the neck of your bottle so you can hang it up – your bird feeder is ready to be hung up anywhere in your garden!
|