Local food and May discounts in the Eco Shop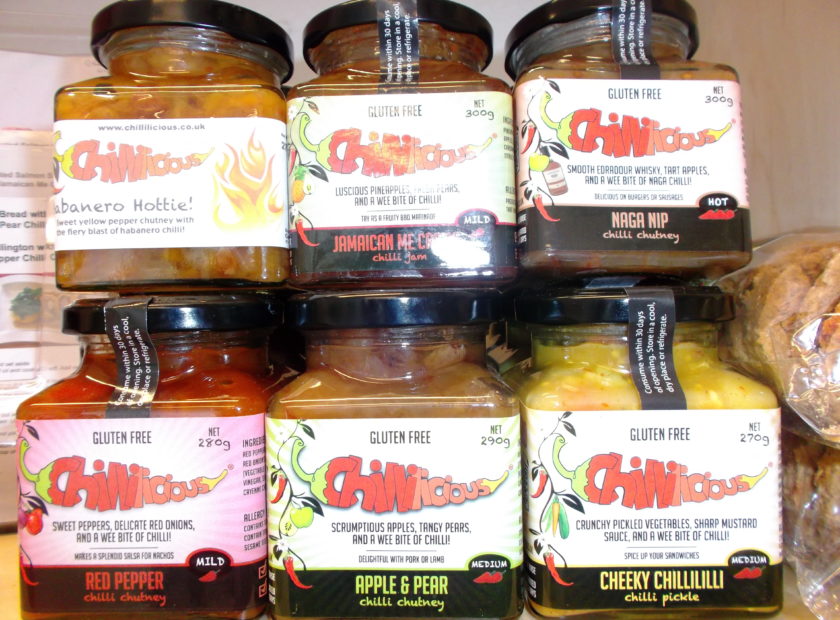 Our Eco Shop is committed to selling ethical products that help benefit communities and the environment, and this includes supporting small local producers, from Fife, and slighter further afield in Scotland.
The range of tempting and tasty chutneys you can find on our shelves comes from one such local producer, Chillilicious. Wanting to focus on the flavour of the chilli and the amazing health benefits rather than heat, this mother and daughter team set up the Chillilicious Farm, Scotland's first and original chilli farm, growing a wide range of chillis and coupling them with locally sought, fresh ingredients, and with all their products handmade on the farm.
More than just chutneys, all the chutneys and pickles are vegan, low fat and gluten freel. The original Chillilicious Jamacia me crazy! Chilli jam contains luscious pineapples, fresh pears and a wee bite of chilli, and makes a fruity marinade with a twist.The Naga nip chilli chutney gets its depth of flavour from the addition of smooth Edradour whisky to the tart apples and chilli chutney base and is delicious on burgers or sausages. Or use the Red pepper and chilli chutney as a splendid salsa for nachos, or use the recipe below with Rabbie's revenge oatcakes – chunky chilli and coriander vegan and wheat-free oatcakes – to create this stunning, savoury cheesecake
http://www.chillilicious.co.uk/savoury_cheesecake_with_chillilicious_red_pepper_chutney_and_oatcakes.html
If you're tempted to try these or any other the other goods and goodies available in our Eco Shop why not take pop in on Saturday 23rd May and take advance of our special Members Day shopping discount, with 15% off all purchases for members in the Eco Shop on the day. Not a member, yet, but would like to be? You can join up on the day.
Members Shopping Day, Saturday 23rd May 10am to 4pm, Greener Kirkcaldy High Street Hub, 254a High Street
|