Leftover Bread Recipes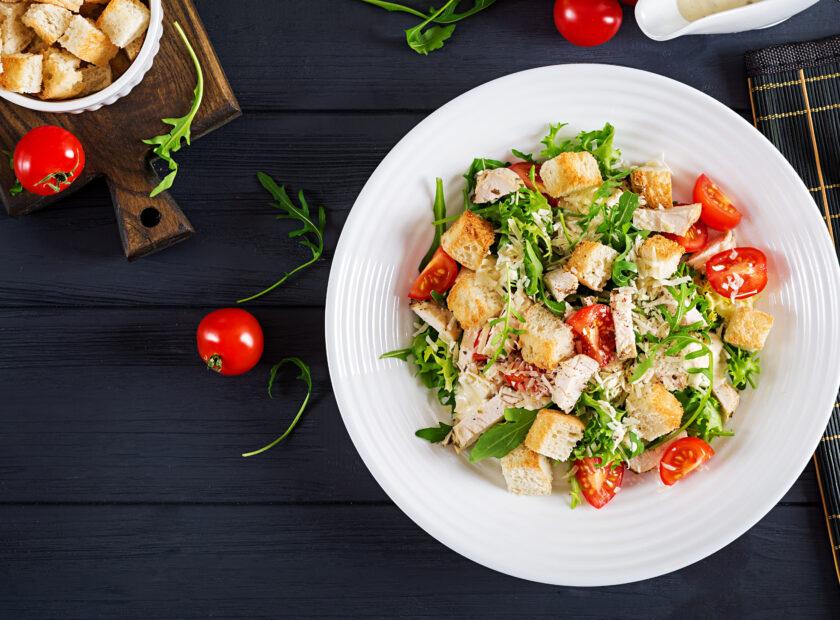 Join our Community Chef Iain as he shares recipes for leftover bread such as Croutons, Herb Crust and a Savoury Bread and Butter Pudding in the latest of his how to make series. 
We all end up with rolls that have hardened or half a loaf that is going stale at some point! The worst thing we could do is throw that bread into landfill where it converts into methane gas contributing to global warming. Even if we put it in compost or our brown bin, all the resources that went into making the bread are being wasted L
Instead of binning bread, why not consider using it for croutons, breadcrumbs or even a herb crust to top your dishes? Our community chef shares some of his tasty recipes for using up bread, including a savoury bread and butter pudding!
Making Croutons
This is a good way to use up bread that is getting past its best. If you are using sliced bread then you can put it in the freezer for 20 minutes before you cut it into croutons it will be easier to get them all the same size, which means that they all cook at the same time. If you take the crust off the sliced bread then you can used it to make the herb crust below!
If you are using a loaf or rolls then you can just tear the bread into nice sized pieces.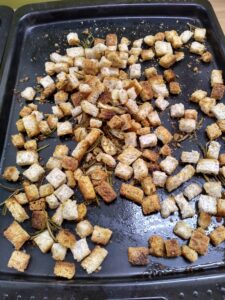 When you have the bread ready place it on a baking tray and drizzle with olive oil and season with salt and pepper. Garlic and hard herbs like rosemary or thyme are a nice addition and you just smash the garlic cloves and break over the croutons.
Place in an oven at 160°C and after 10 minutes toss them about a little on the tray and give them another little drizzle of olive oil. Time will vary depending on the size of the croutons but they are ready when nice and crisp all the way through the crouton. When they have cooled to room temperature, store them in an airtight tub.
Croutons are a great addition to soups or salad.
Herb Crust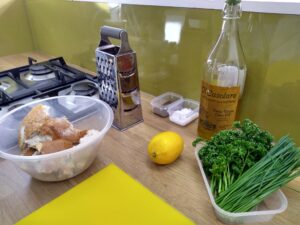 All the ingredients you need for a herb crust are bread, soft herbs like parsley, chives, tarragon, chervil (parsley is good because you can use a lot without being too strong a flavour and it makes it a vibrant green colour) and a lemon.
In a food processor break up the bread, roughly chop your herbs then add the zest of a lemon along with a pinch of salt and black pepper and blitz until the bread and herbs have all broken down.
This a good alternative to cheese-topped dishes like macaroni & cheese or lasagne. The mixture can be kept in the freezer and used when needed.
Savoury Bread & Butter Pudding
Ingredients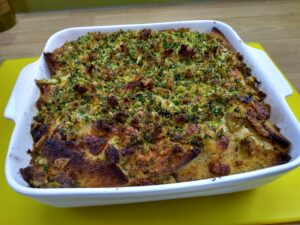 Sliced white bread, enough to fill the dish you are using
Soft Butter
Eggs
Milk
Amount will vary relative to the size of the dish you are using but the important part is 1 egg to 100ml milk ratio.
Cheese (not a lot needed as it is quite a rich dish)
You can add many things to this dish – leftover meats like ham or chicken, vegetables like peppers or onions are good. Be creative!!
We topped our dish with herb crust (see above)
Method
Make your milk and egg mixture in a jug (some smoked paprika is nice added to the mixture) as a rough measure you will need enough mixture to fill the dish half full, season well with salt and pepper then keep for later
Now butter one side of the slices of bread and stack them when doing so
Cut the stack of buttered bread into triangle quarters, split the stack if too tall to cut easily
Butter the dish you are using then start to add the bread trying to leave few gaps
When building the layers add any bits and bobs you want to use
Gently compress the bread so that the top is level with the dish and finish with a sprinkle of cheese
Slowly pour the milk mixture over the top trying to distribute in evenly, when you can see the liquid just above halfway up the dish stop and gently press, now leave to sit for 10 minutes while the oven heats to 170°C
Baking time depends on the size so to check when it is ready it should feel firm when pressed. You can double check by using a knife and make a small cut into the middle
Optional: when the egg mixture is nearly firm, add the herb crust (see recipe above) ten and bake for another 10 minutes.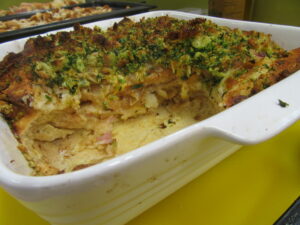 You can view Iain's Meat-Free Cooking videos here.
|