Kirkcaldy Walking Festival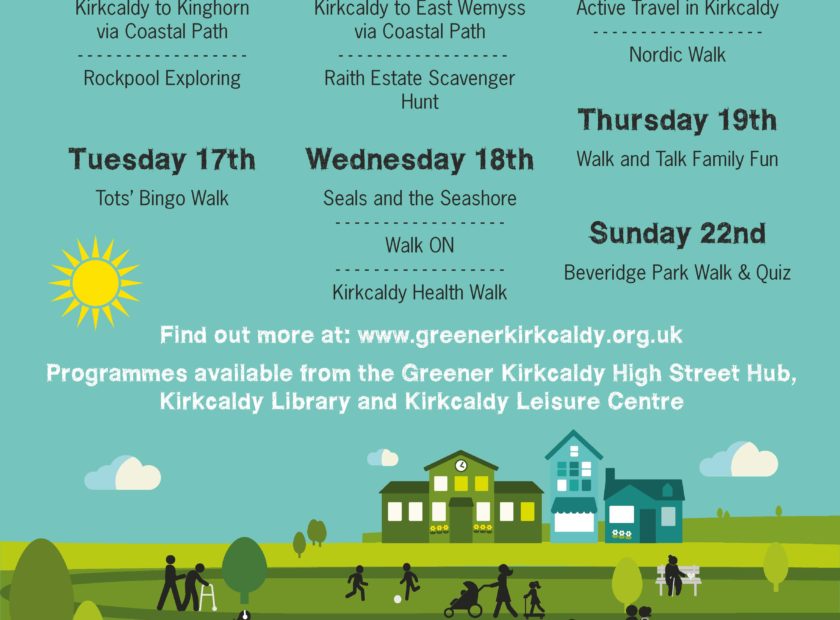 The first ever Kirkcaldy Walking Festival will take place between the 14th – 22nd July 2018.
We're bringing together groups and organisations from around Kirkcaldy to run a variety of activities, encouraging people to walk in their local community, get active and bring people together to enjoy different aspects of Kirkcaldy and Dysart. Go to our events page to book on to Greener Kirkcaldy's walks during the Walking Festival.
Download the programme as a PDF:Walking Festival Programme:
Festival Programme
A new addition to our Walking Festival programme for 8-25 year-olds:
Also available are some self-guided walks in Kirkcaldy:
Beveridge Park Quiz – this takes you all around the park, including up to the Wizard Walk. It is a fun exercise in looking closely at various features in the park. Copies can be picked up from the burger van.
– Linktown Walk – this highlights the valuable contributions that have been made by the Links community and the gifted characters who emerged from there. Copies of the leaflet can be picked up from Philip Hall or Linktown Church of Scotland, Nicol Street (in the main corridor).
|