July at Ravenscraig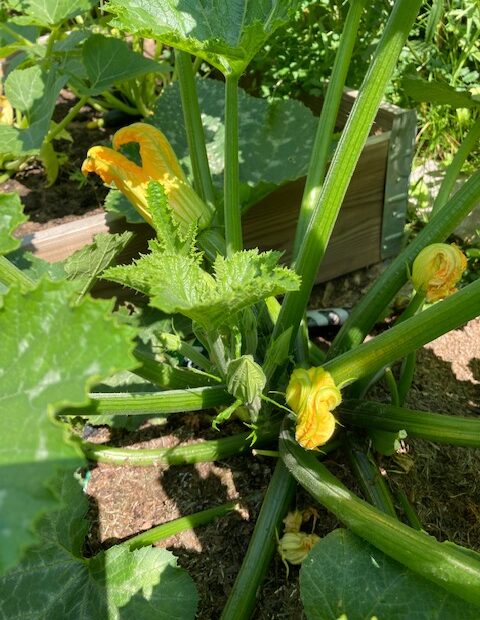 Our Sessional Worker Jackie talks about what went on in July at Ravenscraig Walled Garden in her latest blog.
July started off warm and wet, but for the last couple of weeks, we've had lots of sun and no rain. It's also been quite windy, so we've spent a lot of time watering our plants to ensure they thrive. The sun has been great for many of our crops – the courgettes, squash and beans are all enjoying the heat. The tomatoes and aubergines in the polytunnel are also doing well.
We've made great progress in revitalising our herb spiral. We started with a thorough weeding to get rid of the creeping buttercup and grass that had invaded the space. We then topped up with some new compost and planted out the herbs. We were able to save some of the original herbs – the rosemary, sage and marjoram were all fine. We also transplanted some herbs we had growing in pots on our plot (lemon balm, catmint, and oregano) and then added some new plants (thyme, hyssop, and apple mint). We'll keep it well watered for now and hopefully, the herbs will grow quickly to fill the space. The bees and insects love the herb flowers, and it smells wonderful!
At our volunteer session last week we harvested the garlic. We had planted French and Italian varieties; both have done well growing large bulbs with many cloves. The volunteers hung it up to dry out under the canopy in front of our Cabin. When dry it can be stored for use later in the year, but it's also delicious to use fresh.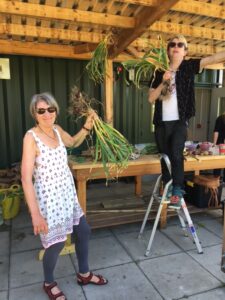 A group of our volunteers have been working on the path in the orchard that runs through our orchard. They've spent a lot of time weeding, edging, and renewing the bark to improve it. It now runs from the start of the orchard right through to the wild area at the back of the site. It's peaceful and shady along the path, perfect for a stroll through after working hard on the veg plot!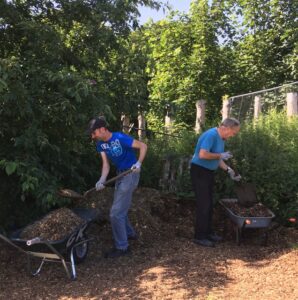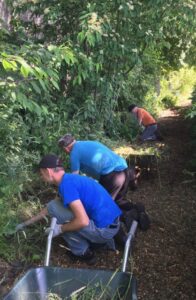 So far in July, we've been harvesting lots of soft fruit. Our strawberries, raspberries and gooseberries have done really well this year, but the blackcurrants have disappeared, unfortunately (we suspect the birds). We harvested the first of our potatoes and the volunteers took them home to try them out.
July usually marks the start of the courgette season too – so this month our recipe is an idea for using up a glut of these tasty and versatile vegetables.
Chocolate courgette cake
125g butter or margarine
75g dark or milk chocolate, roughly chopped
1tsp vanilla extract
3 eggs
100g Greek style yoghurt
250g sugar
300g self-raising flour
50g cocoa powder
I tsp cinnamon
375g courgettes, roughly grated (put them in a clean tea towel and squeeze out any liquid)
Put the butter/margarine, chocolate and vanilla extract in a heatproof bowl and melt over a pan of simmering water (or use the microwave). Cool for a few minutes.
Whisk in the eggs and yoghurt until smooth, then in a different bowl combine the flour, sugar, cinnamon, and cocoa powder. Add the wet ingredients to the dry, whisking until combined. Fold in the courgettes.
Bake in a 23cm tin (lined with baking paper) at 180 C for around 1 hour and 15 minutes until well risen and light to the touch. Leave to cool completely in the tin.
You can ice the cake with buttercream if you prefer. It's delicious with coffee or served as a dessert with ice cream.
|