How to make Stock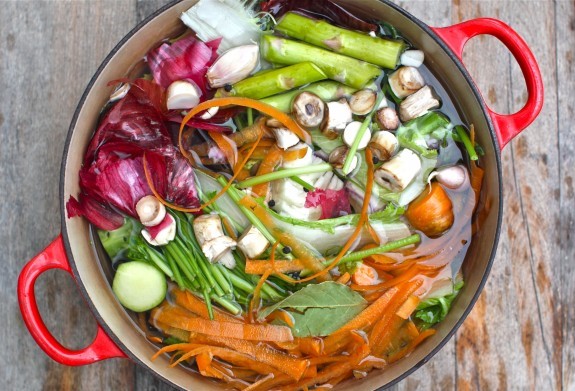 Our Community Chef Iain shares how to make vegetable and chicken stock in the latest of his "how to make" series. 
Using stock is a great way to add depth of flavour to soups, sauces, curries and any other dish that you need to add liquid to. Vegetable, chicken, beef, fish and ham stocks are the most common and all can be made at home, with some being trickier and more time-consuming than others. Making a stock may seem a lot of work when there is a convenient "stock cube" out there, but if you are making something special or have leftovers available it is definitely worth it!
Vegetable Stock
Ingredients
Ingredients can vary according to what you have but onion, carrot and celery and the three main ones. When preparing any vegetables, you can keep the trimmings and even peelings (if they are clean looking) to add to the stock, you can have a tub in the freezer that you can keep adding to until you want to make a stock. Although using the trimmings is great to reduce food waste I would also add fresh vegetables also just to get a fresh tasting stock.
Other good vegetables and herbs to add are
leeks,
fennel,
garlic,
rosemary and
thyme.
Some spices work well also, like
black peppercorns,
fennel seeds,
star anise,
coriander seeds,
cinnamon
Remember, these are suggestions but you can experiment and trust your judgement by smelling and tasting!
Method
Quantities will vary according to how many vegetables you have and how much you want to make, so the amount of liquid you start with will be the amount of stock you end up with.
I like to use a mix of water and white wine 50/50 mix but you can use just water. Put into a pot with any herbs and spices you are using and bring to the boil. When the liquid is heating up roughly chop the vegetables and place in a large bowl with any other herbs you are using. When the liquid is boiling, pour over the vegetables in the bowl and give it a little mix. Leave to cool a little then cover the bowl and leave for 2-6 hours depending on the time you have, the longer you leave it the more intense the flavour will be.
When you are ready to use, strain out the vegetables and spices and you should be left with clear aromatic stock. At this point, you can return the stock to a pot and reduce further to intensify the flavour more.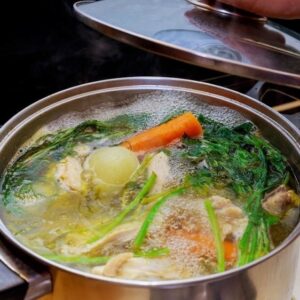 Chicken Stock
Ingredients
1 chicken carcass (could be leftover from a roast chicken or use wings and parts of uncooked chicken)
1 onion, roughly chopped
1 carrot, roughly chopped
1 stick of celery, roughly chopped
1 sprig of thyme and/or some parsley and/or bay leaves
bulb of garlic
peppercorns
Method
Put the chicken carcass, vegetables and herbs in a large pot, and fill with water until all the ingredients are just submerged
Bring to the boil, and then simmer, uncovered for 3 hours. Top up the water if necessary. Chicken stock should be simmered – not boiled. Boiling the stock emulsifies the fat, and created a cloudy, flat-tasting stock
Skim off any discoloured foam from the surface throughout cooking
Remove the carcass from the pot, use a slotted spoon to scoop out other bones and vegetables then strain the stock through a fine sieve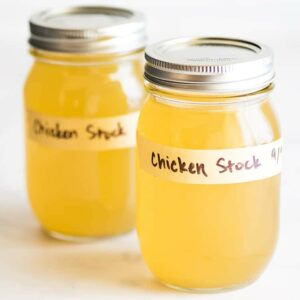 Storing stock
Stock can be used immediately, or refrigerated and kept for 3-4 days. Alternatively, freeze the chicken stock, and use within 4 months.  You could freeze smaller portions in silicone muffin moulds or small containers!
|