How to make soup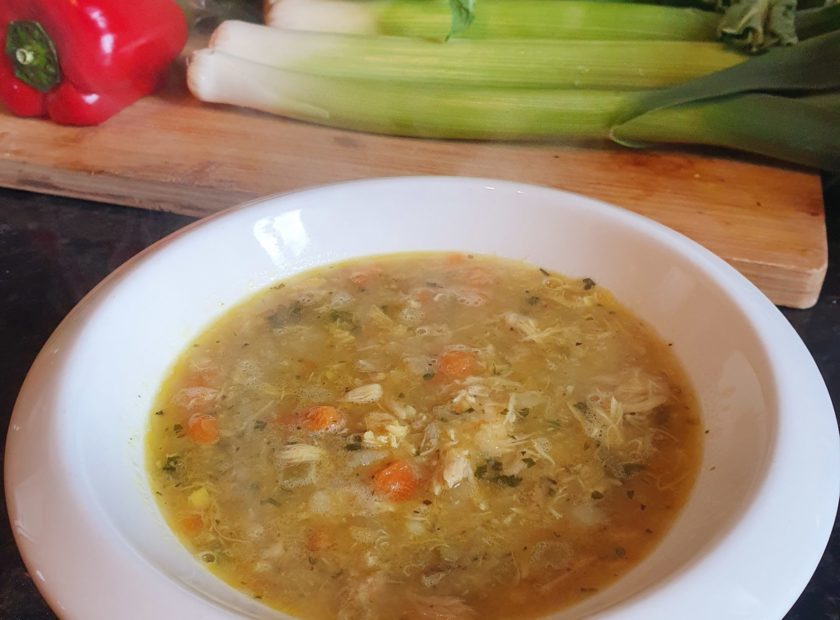 The latest in our "How To Make" series from our Community Chef Iain is Soup. Iain will take you through step by step how to make the base of every soup, how to make lentil, mushroom and tomato soup.
The situation we find ourselves in regarding food could be challenging but can be helped with some different approaches you can take to the food you prepare. It may not be easy to get the ingredients that you normally use and ready prepared food will be in strong demand. This being the case it offers people the chance to reconnect with and also be creative with food. Spending more time cooking could provide an outlet to create a little happiness in our homes.
The making of soup is something worthwhile as it is satisfying to make and eat, also a great source of nutrition and vitamins. A hearty bowl of soup can be a complete meal.
How to make the base to almost every soup.
Because we are not using stock cubes all the depth of flavour comes from the base of the soup. Almost every soup you make starts with a selection of vegetables with the addition of herbs or spices (these can come in the form of all the glass jars in your cupboard).
Onions, Celery and Carrot are the three most common base vegetables for soup. I would recommend if possible use these vegetables but substitutes work well depending on the soup you are making.
Additions
Herbs- Using dried herbs have a different flavour to fresh and should be used differently. Use less dried herbs as the flavour will develop as the cooking goes on and you can always add more if you wish.
Garlic works well with a lot of soups you make, you can use fresh, garlic paste, garlic granules
Before you begin decide if you are making a blended soup or a chunky soup
We are making a blended soup then you don't need to be as fussy about the chopping of the vegetables.
If making a rustic soup try to get the vegetables as uniform as possible so that they cook at the same rate.
Blended
To start, get a large enough pot to make your batch of soup and put on a low to medium heat with a glug of oil. Add your chopped vegetables and herbs if using.
Cook on a medium heat giving it a stir every few minutes as to prevent sticking, you do not want the heat to high as to give the vegetables any colour. We are just "sweating" the vegetables to release their flavours and natural sugars which is key to adding flavour to your soup.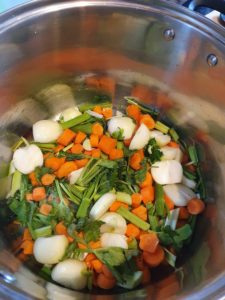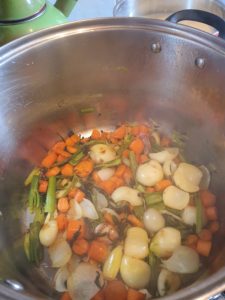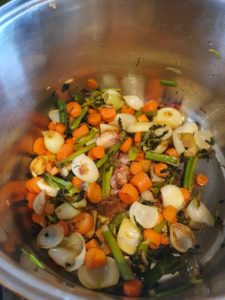 After the vegetables have started to colour this is the point at which the base for your soup is made. If you plan on making more than one soup you can double the number of vegetables you start with. Now you can take half the base away and store in the fridge for 2 days or freeze for your next soup.
Soup Ideas
All of these soups start with the "Base" described previously. The quantities need to be judged by you but as a guide add your ingredients to your base.
Lentil Soup
Ingredients
Soup Base
Tomato purée
Red lentils 300g
Method –
On medium heat have the base and add 2 tablespoon tomato puree and mix well
Add lentils the mix with the vegetables then add a litre of water
Bring to the boil then reduce to a simmer remember to stir to stop lentils sticking
Monitor the amount of water but don't add too much as you can always add but not take away
When lentils are cooked you can blend or not, season well…I prefer white pepper to season lentil soup
Variations – You can add chopped tomatoes, smoked bacon or chunks of vegetables I like potatoes or turnip.
Mushroom Soup
The base for mushroom soup differs slightly, leave out the carrot and replace with leek.
Ingredients
Soup base (Onions, celery, garlic and leeks)
500g chopped mushrooms – I think chestnut mushroom is the best
1 large potato (this helps to make the soup velvety)
150ml Dry White Wine (Optional)
Milk or cream to finish
Method –
Start with the soup base and when ready to use add mushrooms and cook on medium heat stirring frequently
When the mushrooms are cooked add wine if using then cover with water
Dice the potato and add to the pot and bring to a simmer
Check the potatoes with a fork and when soft remove from the heat
Before you blend the soup you need to asses if you need to remove any liquid. I advise to remove some then you can add again as you blend. You want a fairly thick consistency
Use a hand blender being carful of splashes and blend adjusting the consistency as you go, add a little cream or milk if using. I like to blend this soup fully so that it had a velvety finish
Season with salt(with the addition of potato you may need more salt than you think) and white or black pepper
Variations – This soup is terrific with the addition of herbs. Rosemary or tarragon are both good choices.
Tomato Soup
Ingredients
Soup base(the addition of dried herbs helps this soup base)
2 tins chopped tomatoes
Tomato puree
Sugar
Method –
Start with the base with maybe a little more garlic and herbs
When the base is ready, add 2 tablespoons tomato puree and stir well to coat the vegetables making sure it doesn't stick
Add the chopped tomatoes and 2 tins of water then stir
Bring to a simmer for 20 minutes
Have a taste and you may need to add a little sugar (or tomato ketchup) to take away the acidity of the tomatoes. The longer you simmer the less sugar you will need
I suggest to lightly blend this, not until smooth
If you are inspired to make soup yourself we would love to see your pictures – please share on our Facebook page or Twitter.  Also, keep an eye on our website and social media for more "How To Make" blogs.
|