Home Energy Advice – Steve's Story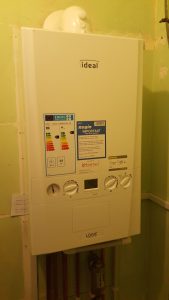 Our Cosy Kingdom energy advisors can advise on a wide range of issues. Read Steve's story for one example of the help we can offer.
Steve initially contacted us for a home energy visit after speaking to a neighbour about a condensation problem in his bedroom. He is a retired professional who lives by himself in a one-bedroom bungalow.
Energy Advisor Michael went out to visit Steve. He advised him on how to resolve the condensation problem and also prevent it from occurring again. During the visit, he also noticed that Steve's heating system was over 30 years old. Steve said that it regularly broke down and it was becoming very difficult to source replacement parts.
Michael discussed the possibility of applying for a grant to replace the heating system, and looked at the relevant criteria to see if Steve would be eligible. Unfortunately, Steve did not meet the criteria for a grant towards a replacement as he received no benefits. As Steve struggled with a number of disabilities, Michael suspected he qualify for benefits that he wasn't aware of. He therefore referred him for a benefit check from Citizens Advice and Rights Fife.
Healthy Heating Advisor, Kerry, from Citizens Advice and Rights Fife, later visited Steve to complete a benefit check. She found that he was eligible for Attendance Allowance, and helped Steve apply for this Steve was also eligible for Pension Credit and Council Tax Reductions.
Michael visited Steve again. He discussed the Warmer Home Grant Scheme, and referred him to Home Energy Scotland to check if he was eligible for a new heating system.
After visits from surveyors to assess his property, Steve had a new energy efficient combi-boiler fitted as well as 5 new radiators. He was also given 2 smoke alarms and a carbon monoxide detector too. After relying on a hot water tank for 30 years, he was happy to have instant hot water when he needed it.
Steve was also eligible for our Handy Service and was given LED light bulbs to replace his existing lighting. These would help him cut down on his electricity use and last up to 25 years too.
Steve was incredibly grateful for our help. He did not realise how much he was entitled too that he had been missing.
"I can't believe the energy advisor noticed all of this just from a condensation issue" 
Cosy Kingdom can help Fifers stay warm and save money. If you would like a free and impartial energy advice visit book now through our online form. You can also call us on 01592 858458, text COSY to 88440 or email info@cosykingdom.org.uk.
|