Grocery box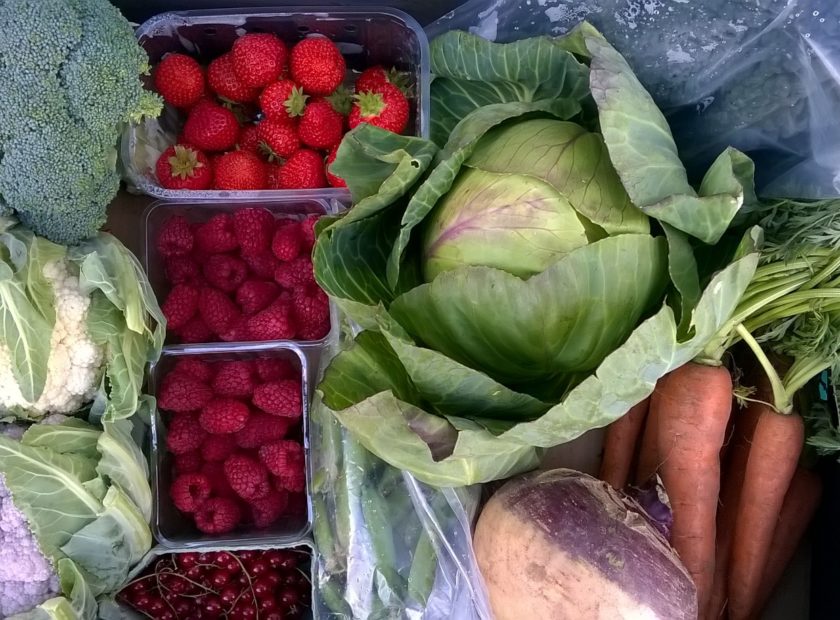 Grocery boxes offer a different approach to our conventional supermarket shopping habits and a potent way of connecting us to the food we put on our plates. Buying locally-grown fruit and veg means fresher food from a shorter supply chain, without excess waste packaging and the knowledge that your purchases help to support small, independent farms.
I'd always been tempted by the idea of a veg box, but something always held me back. What if I didn't like all the produce I was getting in my box? Was I prepared to commit to getting a delivery every week? One of the advantages of shopping through the Fife Food for Fife Folk project is that it operates on the principle of the traditional veg and grocery box, but allows you to choose what you want when you want.
There's a certain excitement to getting your food in one go, and immediately setting your mind on meal planning, from comforting curries, tagines, soups and stews, to crumbles, cakes and simple, fresh salads.
This month I filled my box with Tuscan kale, cauliflower, dirty carrots, peas in pods, summer cabbage, broccoli, new potatoes, strawberries, raspberries, redcurrants and gooseberries, all from Pittormie Fruit Farm, plus rainbow chard, fennel, broad beans, garlic, basil and parsley, mixed salads from Meadowsweet Organics and Falkland Kitchen Farm. I added a seeded sourdough loaf and some rolls from Woodlea Stables in Crossgates to my fresh food purchases.
I supplemented my fresh food order with high quality, ethical staples: dates, sundried tomatoes, mixed seeds, red lentils, chickpeas, cous cous, all from the Greencity Wholefoods Cooperative in Glasgow, tinned tomatoes, mixed beans and coconut milk from Essential, and organic wholewheat penne pasta, spaghetti and Fairtrade rice.
I also topped up my box with local honey and raspberry and tayberry jam, plus pop in some Fairtrade coffee and sugar, and organic camomile tea, bread flour, tahini, tamari, black peppercorns and spices, from the shelves of our Eco Shop
Getting a grocery box in this way means I can do my shopping in one go, supplementing where needed. I like the reassurance that my food is chemical and pesticide free, and that it's production supports both ethical farming practices and small family farmers, locally and abroad.
What motivates me the most, though, is feeling connected to the food chain – getting a greater appreciation and an increased enjoyment for the food that's in season, and knowing that each month I'll have a cornucopia of new, fresh food from right on my doorstep to make into something delicious for dinner.
|