Greener Kirkcaldy Annual General Meeting 2019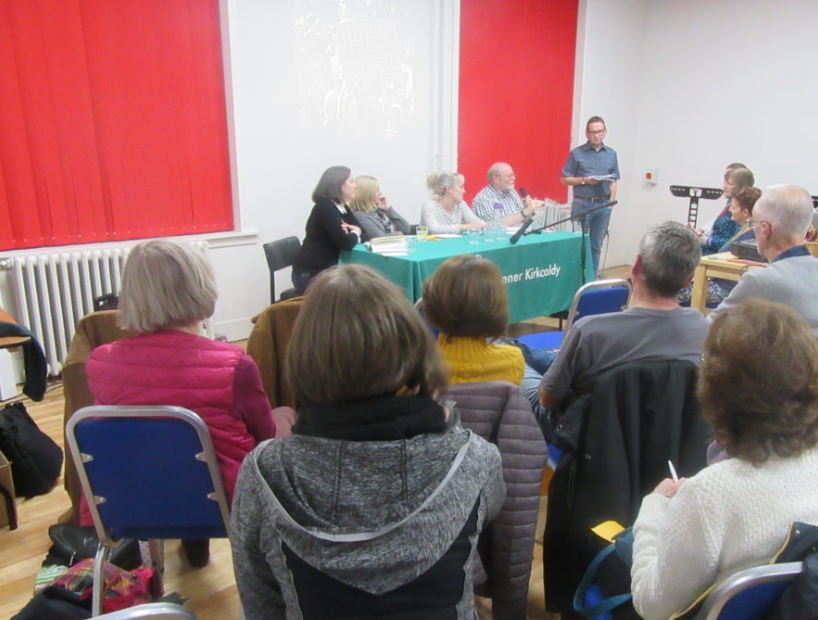 We held our first Annual General Meeting at our new base at 8 East Fergus Place in October – a big milestone for us as well as a celebration of our 10th Anniversary!
A few words from our Chief Executive Suzy Goodsir
Greener Kirkcaldy are delighted to be settled into our new building. The most recent developments for us are that solar panels have just been fitted to the roof and a Tesla Powerwall battery system is being put in place to store electricity generated from the solar panels. 90% of the funding came via the Scottish Government and The Big Lottery. The remaining funding element came from public donations. Greener Kirkcaldy is really grateful for the support received to achieve that. This will enable us to reduce the carbon footprint of our community building, making is more environmentally friendly, and more sustainable.
Cosy Kingdom, our Energy Advice service supported 2000 households in 2018/19. The Community Engagement Team continue to run a range of activities, events and workshops that encourage our community to learn and develop new skills to reduce waste, take personal actions on climate change, cook and grow, travel greener and cycle, and lots more.
Our Lang Spoon Community Kitchen is at the heart of 8 East Fergus Place. Our cooking programmes are growing – we have welcomed 80 people onto our paid evening and Saturday workshops and continue to offer a growing range of community programmes for free. Our Community Training Garden at Ravenscraig Walled Garden is thriving too.
We have recently consulted on a new Bike Upcycling and Repair Service project which we would like to develop and we're working towards applying for funding to make that happen.
AGM
We had a short Annual General Meeting where a summary of Greener Kirkcaldy's 2018 Accounts were presented, and an election of our management committee members also took place. Read our Annual Report here.
Guest Speaker – Richard Dixon
We were delighted to welcome Dr. Richard Dixon, Director of Friends of the Earth Scotland to speak at our event.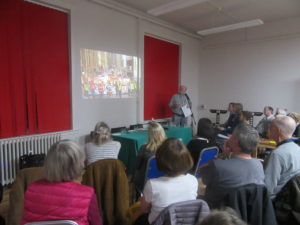 Richard became Director of Friends of the Earth Scotland in early 2013 and has been very involved in the campaigns against fracking and for strong action on Climate Change.  He helped set up Transform Scotland and Stop Climate Chaos Scotland, and serves on the boards of Postcode Culture Trust and SEPA, and is a former Chair of the Edinburgh Community Solar Co-operative.
This is a summary of Richard's talk:
There have been many developments around Climate Change over the last year. Most recently, 7.5 million participated in marching about Climate Change around the world from first world to third world countries. 25,000 marched in Edinburgh and altogether 40,000 people marched across Scotland. The event in Edinburgh, with support from Friends of the Earth, was organised by young people. Richard highlighted how young people are continuing to become engaged in Climate Change, the most well-known being Greta Thunberg. She addressed a recent UN summit on Climate Change in New York and continues to greatly impress and influence her peers and other world leaders.
Back in Scotland, the Climate Change (Emissions Reductions Targets) (Scotland) Bill 2019 passed in September 2019. This Bill sets out targets for Net Zero Carbon by 2045. The setting of a short term target by 2030 was a knotty issue, as agreements on the final figure moved between Scottish political parties. However, a 75% target to reduce carbon in Scotland  by 2030 was agreed on the day the Bill was passed. Scottish emissions trajectories appear to be moving downwards since 1990, but it's difficult to tease out what actors are at play with the closure and decline of coal mining and other heavy industries over the last 30 years. All sectors need to act to reach both short and long term targets from individuals making different choices to institutions, business, local authorities and national government needing to completely overhaul systems.
Focusing on individuals, analysis from the Scottish Household Survey showed that 65% of those asked described Climate Change as an immediate and urgent problem, with 58% acknowledging that their lifestyle choices contributed to Climate Change. 74% reported knowledge of what to do, but it's difficult to measure this.
Richard discussed three key things that get talked about that can make a difference:
Having less children
Flying less
Eating less meat
While we can change our individual actions, governments, businesses and institutions need to change what they do and help society make change easier. Infrastructure and systems need to help individuals make the green choices the norm – at home, how we travel, how we consume, farming and agriculture, and industry. These systems also need to lead by example. Fife Council declared a climate emergency, other local authorities are doing this too, but plans are unclear. Edinburgh and Glasgow are seeking to be carbon neutral by 2030. We need good examples to show us the way, encourage others and make things happen.
We also need to keep putting pressure on our representatives in local and national politics. We can challenge them to tell us what they are doing about Climate Change. The role we play as individuals is not always about protesting, but finding other ways to make a difference.
The next 6 months are important as strategies are revised, in particular on energy. Developing renewables is key, and the pros and cons need to explored further in relation to the tensions between green renewables and hydrogen/carbon capture. Friends of the Earth Scotland are already engaged in campaigns around energy for the future and moving away from the reliance on fossil fuels. However, it's something we all need to be engaged in over the next few years to help steer good energy decisions in Scotland.
Richard concluded with a call encouraging interaction with the next UN Global Climate Summit in Glasgow in 2020. As well as hosting 200 World Leaders, lots of fringe activities are planned, such as talks, workshops, and a huge march calling for action on Climate Change. We can all get active in our own lives, whether it's getting involved in Greener Kirkcaldy and our activities, with other groups and campaigns, or challenging our families, friends and workplaces to do more. We can all contribute towards making a difference.
Richard was joined by some special guests for a discussion panel on Climate Change.
A big thank you to everyone that came along, to our guests,  and to our volunteers for helping to make delicious cakes!
|