Greener Ideas – help us plan our next steps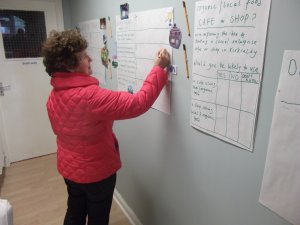 ARCHIVE: October 2011
We're planning our projects for the next few years – and we'd love to know what you think of our ideas and to hear your suggestions. We want you to guide our plans – so please take our online survey, come along to our consultation open days, or even better, do both!
To take part online (5 minute survey) – http://www.surveymonkey.com/s/G5M2RMN
Consultation open days: make your wish for our future direction! During November, at the Greener Kirkcaldy centre, 254a High St. Pop in any time between noon and 5pm on Fridays and 10am and 5pm on Satrdays for a chat or to write your comments on our ideas wall.  Free tea/coffee and cake all day.
Here are some of our ideas –
Growing more food locally
Encouraging re-use, repair and recycling
Generating local energy
A local food cafe and shop
Energy-saving advice
|