Getting to Know Your Soil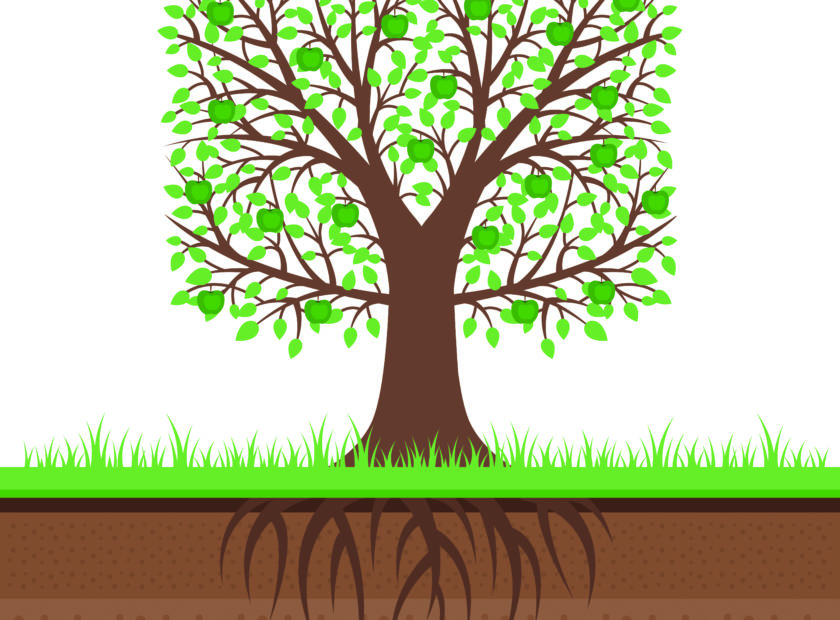 On Saturday 11th of February and Saturday 25th of February we are running two Getting to Know Your Soil workshop at Ravenscraig Walled Garden. Both workshops are free to attend but booking is required.
In this blog I plan to give you a little taster of what types of soil there are, how to improve the quality of your growing space, tips on how to produce good crops of fruit and vegetables and how to solve any soil problem you may have.
Types of Soil
Knowing what type of soil you have will help you choose the correct plants for your garden and keep your plants in good health. There are six main soil types with big differences in their characteristics:
Clay – clay soils are heavy, high in nutrients with the potential to be fertile, wet and cold in the winter and baked dry in the summer which causes it to go very hard. They can also hold a high amount of water but drain slowly.
Sandy – sandy soils are light, drain quickly after rain or watering and are easy to cultivate and work. They are dry, warm (they warm up much quicker than clay in spring), low in nutrients which get washed out by the rain and are often acidic.
Silty – silt soils are fertile, light, drain fairly well and can hold more moisture than sandy soils, but are easily compacted.
Peaty – peaty soils are very high in organic matter and hold a lot of moisture. They are also very fertile. They are rarely found in gardens.
Chalky – chalky soils can also be called lime-rich soils. They are very alkaline and may be light or heavy. They are largely made up of calcium carbonate.
Loamy – loams are mixtures of clay, sand and silt that avoid the extremes of each type. They are fertile, well-drained and easily worked.
Source: Royal Horticultural Society
Further Reading: Thompson & Morgan
How to improve the quality of your growing space
No matter what type of soil you decide to use for your garden, it is important to keep your soil healthy to be successful. Digging and incorporating well-rotted organic matter can significantly improve all soils.
Build organic matter
A valuable organic matter to the soil is compost. Compost improves the physical and chemical attributes of the soil in different ways, from supplying nutrients to encouraging healthy soil microorganisms and worms.
Another valuable organic matter to soil is manure. Manure has nutrients readily available to soil organisms and plants. Manures actually make a greater contribution to soil than composts, which have already mostly decomposed.
Compost
Composting is an excellent way to recycle old waste materials from your garden or even from inside your house. Not only do you save waste from the landfills, but the composted materials feed your soil with lots of beneficial microorganisms. Compost will also reduce plant diseases, and improves your soil drainage.
Some great items to put in your compost heap are leftover fruit and vegetables, as well as leaves and other waste around the garden such as grass clippings. Other items could include paper, teabags, wood ash and coffee filters.
Cover crops
Another organic gardening tip is the idea of growing cover crops which are also called "green manures". These cover crops include plants such as barley, yellow mustard, clover and hairy vetch. Depending on what you grow, you can use these cover crops to add organic matter, suppress weeds, prevent erosion, fight plant diseases and introduce air to the soil.
Crop rotation
Growing a range of different crops in your garden can keep your soil healthy as well. Different kinds of plants require different types of nutrients, and attract different kinds of pests. It is a good idea to rotate your food crops each year for this reason and that also means that plants will not grow in the same place every year.
Sources: Craftsy & Mother Earth News
Further Reading: Vertical Veg
Tips on how to Produce Home Grown Fruit & Vegetables
It is nearly that time of the year where the days will get longer and the winter jackets will get put away for another few months. Around March and April time is usually the best months to start planting your fruit and vegetables.
Tip 1 – Planning
Before you start planting your fruit and vegetables is important to plan what you want to plant and where you want to plant them. It is important to give your seeds the best possible growing environment.
One of the important factors you have to think about before planting is what you actually want to or need to plant. Another important factor is the space you need. Some fruits and vegetables can be grown in small spaces, like potatoes, onions and tomatoes, while others need room to spread out and grow properly, like peas and beans. Make sure you have enough room in your garden for the items you want to grow.
Tip 2 – Preparation
Once you have planned what you want to grow, it is time to get out in the garden. Preparing your garden for planting fruit and vegetables will include loosening the soil. This can be done with a rake or shovel and also adds some organic matter to the ground.
Depending on what type of kind of condition your soil is in, you might have to add some water and let it soak in for a couple of days. This will make digging much easier for you. An important note is that the soil should be damp and not wet as this could destroy the structure.
Once that is done you can start to add your organic matter. As stated earlier in the blog, manure or compost will be perfect for this. Once it is spread on top of the loosened soil, allow it a few days to rest and work into the soil.
Tip 3 – Planting
The planning and preparation is now over and the real fun now begins with the planting. Different plants will require different depths in the soil but usually, you can plant seeds at a depth twice their diameter. Most small seeds will be planted just beneath the surface if you follow this rule of thumb. A row of seeds should be planted 2-4 feet from each other to avoid overcrowding.
To extend your harvest, seeds such as lettuce, peas, beans and carrots can be planted every 2 to 3 weeks. This rotation will help make sure you have enough of these vegetables throughout the whole of summer and maybe into the autumn.
Source: Fruits and Veggies More Matters
Further Reading: Planet Natural
Problems & How to Solve Them
Sometimes it can be a struggle to have a good crop, but there are ways around problems that you may run into over the course of the year.
Problem 1: Soil lacks organic matter
A lack of organic matter can result in a lack of soil life, failing crops, poor water retention or drainage issues facing crop areas. To fix this problem, add more compost which is fully decomposed. If not decomposed then you could deprive your crops of the necessary nutrients it needs.
Problem 2: Soil is too dry
Adding more compost or manure to your crop beds is a good solution if they drain or dry out too quickly. Adding the compost or manure will add both nutrients and water-retention capacity. Decomposed compost is recommended for this as it will give your growing plants nutrients.
Problem 3: Soil is too wet
This is probably the biggest problem facing gardeners in this country with the amount of rainfall we receive. An effective way to combat this is to have a good drainage system. Another effective method is to add sand into the soil unless your soil is clay soil. It is also a good idea to plant your crops away from natural water pathways.
Source: Hobby Farms
Further Reading: Off the Grid News
That's just a little taste of what you will learn on our two workshops. To book a spot on the Getting to Know You Soil workshop then call 01592 858458, email info@greenerkirkcaldy.org.uk or drop by our High Street Hub, 254a High Street, Kirkcaldy, Wednesday to Saturday, 10am – 4pm.
|