Getting out on two wheels with a toddler in tow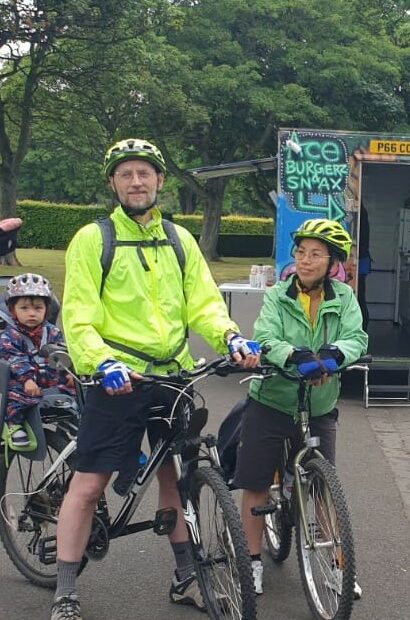 Media volunteer Simon Turner brought his family along to a recent Sunday Social bike ride. He shares his experience and explains how they enjoyed getting out on two wheels. 
"Just hold the bike! I'll put her in the seat. Careful! We're going to be late!"
Pedaling as frantically as possible with a small child on the back of your bike, I cycled with my wife through the streets of Kirkcaldy towards Beveridge Park, the starting point for Greener Kirkcaldy's Sunday Social bike ride.
"Is she ok? What's she doing?" I asked Linda, twisting my neck around in a vain effort to check on Maya. "She's fine! Just looking around. She's enjoying it!" In fact, our toddler was approximately one hundred times happier nestled in the bike seat mounted on the rack of my mountain bike than in the car seat. Journeys by car could be intensely stressful affairs, with our daughter audibly frustrated, bored and craving stimulation, strapped in and facing out the rear window.
In the slipstream of the rear bike seat, Maya looked left and right, taking in the sights and sounds around her with an immediacy and interactivity wholly lacking from the isolated bubble of an automobile interior. We pointed out the sights and she called out 'doggy!', 'tree!', 'bike!' and other recent additions to her vocabulary.
Gathering at the meeting point, we met the other bike riders, some familiar faces and some new, and the ride leader went through their checklist, taking us through some basic bike safety checks and talking us through the route.
We would be avoiding roads as much as possible, sticking to shared-use paths and cycle tracks, taking in some of the town's parks and Dysart Harbour, on a circular route that would take around 2 hours.
The cycle leaders and other cyclists interacted with our daughter and offered kind words of encouragement as I breathed heavier than usual with my extra load on the occasional steep climb. Ensconced within a peloton of riders, I got over my initial nerves and felt secure with our wee one in tow, safely escorted over road crossings with our cycle guides topping and tailing the group.
Finishing back at Beveridge Park, the group were chatty and energised and already looking ahead to the next Sunday Social ride. There was no sign of boredom or discomfort from Maya and it had been a satisfying morning of fresh air, views, great company and exercise.
For those with young children thinking of getting the family out on two wheels, we would not hesitate to recommend a bike seat (available at reasonable prices from Lang Toun Cycles) and indeed Greener Kirkcaldy's Sunday Social bike rides! You won't regret leaving the car and the stroller at home, saving money and getting active – just make sure you get someone to "hold the bike!"
Simon Turner
Greener Kirkcaldy's Sunday Social bike rides take place weekly. Find full information at www.greenerkirkcaldy.org.uk/events
|