Get your festive food waste wrapped up for Christmas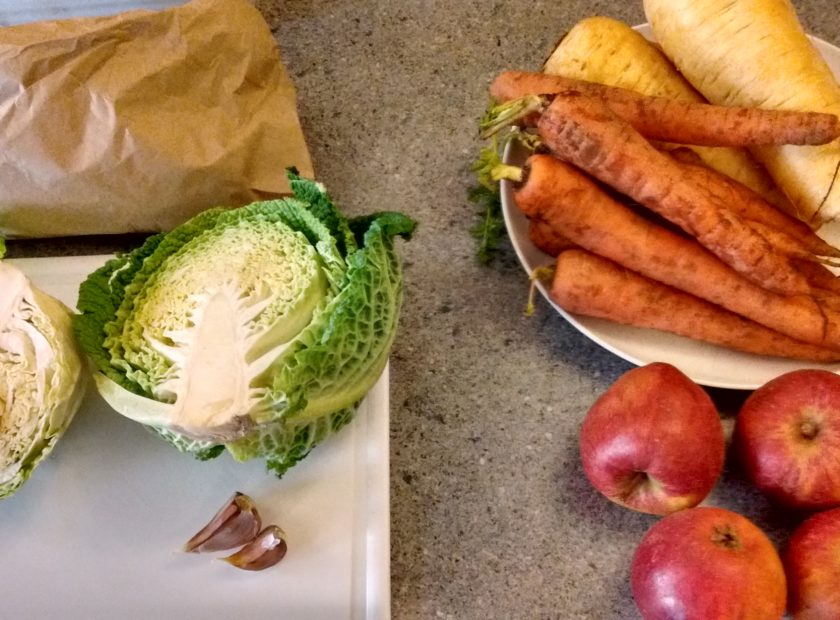 Did you know that your festive food shopping can help reduce carbon and save you money?
As we all start planning to spend some time with family and friends, it's worth taking a few minutes to plan how you will use up all the food you buy over the festive period. Here are a few tips and ideas for reducing the amount of food that could get wasted.
Getting ready
Make friends with your freezer!
Take some time to get to know what's in your freezer.  Make a list of what's in there already and plan meals over the next few weeks to use it up. You will want to free up some space for Christmas leftovers and extra food you may not be ready to eat.
Start planning what you will need to buy – how many people are you feeding and how much will they eat? This will help you decide how much food you will need.
Make a meal planner that covers Christmas and a few days afterwards. Think about what leftovers can be used in your meals in your planner.
Make a shopping list and stick to it. Work out what you will need to get in advance and what you can buy to top up (remember most shops open a day or two after Christmas so you can restock), otherwise food could end up uneaten.
As you are shopping, keep an eye on when food items go out of date. Some items are on shop shelves for a long time before Christmas so they may be going out of date by the time you buy them.
Your Christmas meal
Some people like to draw a plate-sized picture of their Christmas meal. This helps to work out portions sizes and how much food can fit on your plate! When you are happy with your picture and what you're going to eat, you can scale up quantities that you need to cook.
If you like to add a few extra potatoes or veg to the pot, don't overfill plates. People can always go back for more if they want extra and if people have enough they will clean their plates!
Have a stash of containers, foil, and food wrap ready to contain your leftovers. If you are not planning on using them for a couple of days, freeze your leftovers (you will have made lots of space by eating up previous leftovers – see above).
What to do with unavoidable food waste?
Some of the food we will consume at Christmas generates unavoidable waste: peelings, bones, tea bags and so on. Separate this type of waste from other waste so it can be composted.
Most people will have a waste disposal bin or system – here is a guide to what you can compost at home
These are the top items wasted at Christmas with tips on how you can reduce the amount going into your bin this year:
Egg Nog anyone?
87,000 eggs are thrown away every day in Scotland. Did you know….eggs can be frozen? It's best to separate the yolks and whites first in small batches and defrost as you need them. They are great for baking, pancakes, and meringues.
Herbs in your stuffing?
Supermarkets often sell big bunches of fresh mixed herbs for Christmas cooking. Usually, you only need a small amount for stuffing etc. and then wonder what to do with the rest, Herbs freeze really well. Wash, chop and freeze leftover herbs in ice cube trays. Cover the herbs with a little oil. These little flavour bombs are perfect for soups, stews, sauces, toppings and stuffing.
Fruit shot
126,000 bananas are binned every day in Scotland. Bananas can also be frozen easily. Remove the skins, chop and freeze in containers.  Add these to smoothies or banana bread. You could also dip them in chocolate before you freeze them!
Bread for your crumbs?
We can go through a lot of bread for turkey sandwiches and breadcrumbs for stuffing, but an extra 24 million slices of bread is wasted in the UK. If you are buying a sliced loaf, pop it in your freezer and just take out what you need. You can also freeze ends of loafs and sticks – they can be grated while frozen for breadcrumbs or sliced for chunky bread puddings
Cheese please
Cheese can be a special treat for Christmas but is often leftover. Portion cheese into small amounts, wrap it in foil and freeze. It's best to defrost it 24 hours before you want to use it though.
Other Christmas leftovers like sauces, cakes and puddings also freeze well.
You can find lots of recipes here for using up festive food.
The Food Standards Agency also have lots of information on reducing food waste and using leftovers.
What's a portion? Follow this link for a good guide to work it out.
|