Fuel Efficient Driver Training – 17th and 18th August 2012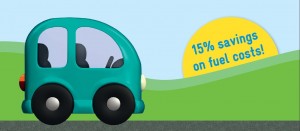 ARCHIVE: July 2012
Want to save money by reducing the fuel you use? Sign up for FREE Fuel Efficient Driver Training today!
Understanding how to drive efficiently could save you up to two months' worth of fuel a year. With the average car owner spending £1800 pounds a year on petrol, this can add up to savings of hundreds of pounds. We're offering you this opportunity to learn to make significant savings absolutely FREE!
Training Sessions are organised through the Energy Savings Trust, and will start and finish at our advice centre, 254 High Street.
You will spend 50 minutes one-to-one with a specialist instructor, making 3 trips around a course picking up hints and tips on how to get more miles out of a tank of fuel. You can then come into our centre for a cup of tea and tell us how it went.
You can book your place on this course by:
E-mailing russell[at]greeenerkirkcaldy.org.uk
Calling us on 01529 858458
Coming into the centre on a Friday 12-5 or Saturday 10-5.
|