Fuel Debt – You don't have to stay in the cold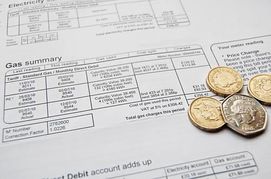 Getting into debt on your fuel bills can happen for a variety of reasons. An extra cold winter might mean your heating is on longer, unsuitable payment methods can mean you're not able to budget correctly or one of the biggest reasons is the steep rise in fuel costs over the last ten years. According to DECC statistics, the average cost of gas bills has risen by 125% over the last ten years while electricity has risen by 83%, as can be seen in the graph below:
Changes in energy Bills over the last 10 years
(Source: Quarterly Energy Prices, DECC, December 2015)
In this blog, Energy Advisor Brian outlines some of things you can do if you get into fuel debt.
What happens if I cannot pay my bill?
If you are struggling to pay your energy bills, you may worry that your energy supply will be cut off. This is always a last resort for energy companies so it is vital to talk to them straight away and try to work out a solution. A fuel supplier has to follow certain conditions when dealing with customers who are struggling to pay. They must offer a method of paying it back that is most suitable to you, at a rate that you can afford, taking in to account your personal and financial circumstances. Here are some ways in which you can pay back your fuel debt:
Pay in monthly instalments – you can pay in monthly instalments which are called a 'payment plan'.  Your supplier will work out how much you have to pay, along with covering the costs of your ongoing energy use.
Recovery rate on your pre-pay meter – if you have a pre-pay meter (or your supplier might install one to recover the debt), you can agree for a weekly recovery rate on your meter. This means that when you top up your meter with credit, it will take a certain amount off that credit to go towards paying back your debt.  The current minimum recovery rate for most suppliers is £4 /week.
Deductions form Benefits – if you're receiving certain benefits you can arrange to pay your fuel arrears in small weekly amounts by deductions from your benefits.  This method of payment can be cheaper than paying through your pre-payment meter.
Grants to pay off your bill – if your debt is a large amount then it might be better to apply for a grant to get the debt wiped. Some energy companies have set up independent charitable trusts which can give grants to customers to pay off their debt.  These companies are EDF, NPower, Scottish Hydro, Scottish Power.  The British Gas Trust also provides grants that are open to customers of any energy supplier.
Managing your energy bills
Managing your bills properly can help prevent you from getting into debt and it can also help reduce overall costs as well. Here are some tips to better energy bill management:
Get the best energy deal – finding the best tariffs can lead to big reductions in your overall costs. Citrus Switch is a Scottish charity that can help you do this. Also it usually costs less if you get both your gas and electricity from the same supplier.
Monthly direct debit payments – are usually the cheapest way to pay. Pre-payment meters are often the most expensive method.
Online Account – this allows you to manage your bills better by keeping track of your payments while also being able to submit meter readings for more accurate billing. Click this link to learn how to take meter readings.
Understand your energy bills – there can be a lot of information and numbers on a bill which can lead to confusion for a lot of people. To understand how your bills are worked out and the various charges on them, you can use citizen's advice helpful online tool which explains how and where to find the most useful information on your bill.
Pre-Payment Meters – while this method is more expensive than monthly or quarterly billing, it can be the most suitable method for a lot of people. Pre-payment meters allow you to see exactly how much you are spending as you pay as you use. This method might be the most suitable for you if you are on a tight budget and need to keep track of your energy spend more accurately.
Further Help and Resources
Citizens advice and rights Fife:
National Debt advice Line:
Greener Kirkcaldy can help
If you're struggling with fuel costs the Cosy Kingdom Home Energy Advice service can help and provide free and impartial fuel debt management advice. One of our energy advisors can come to your home and give you one to one help and advice.
For more information or to arrange a free home visit get in touch by calling 01592 858458, emailing info@greenerkirkcaldy.org.uk or pop into our High Street Hub, 254a High Street, for a chat Wednesday to Saturday, 10am-4pm.
|