February at Ravenscraig Walled Garden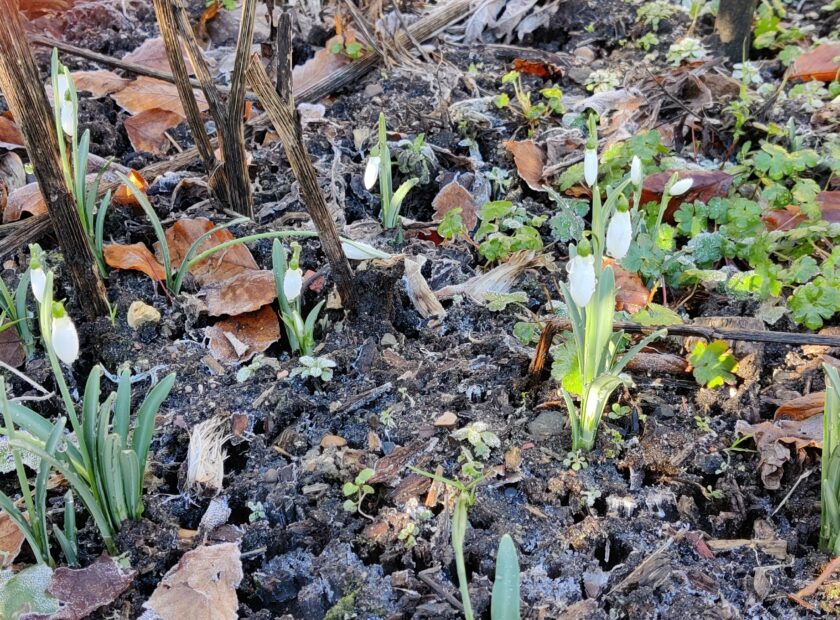 Our Sessional Worker Jackie talks about what goes on in February at Ravenscraig Walled Garden in her latest blog. 
February is a month when we can start to see signs that spring will be with us before too long – snowdrops appearing, buds on the soft fruit bushes. However, it can also remind us that winter is still here, and this year it's been particularly cold.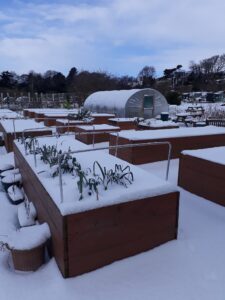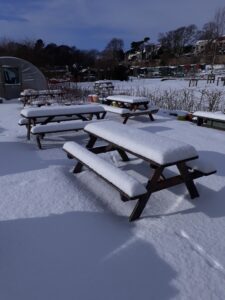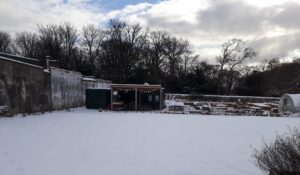 At Ravenscraig our volunteer sessions in February are often spent tidying up and clearing away dead plant material left from the previous growing season. We usually clean out the polytunnel and sort out plant pots ready for when we can start sowing seeds. In the orchard, there are trees to check over and dead leaves to clear away.  It's a good time to sort out the compost heaps and tidy out the shed.
Towards the end of February, we start sowing tomatoes, peppers and aubergines. All of these plants need a long growing season to fully ripen in our Scottish climate so it's a good idea to get them started early. They also need heat to germinate and the best place to do this is indoors, on a windowsill or next to a radiator. There are some varieties that can be grown outdoors in Scotland but most need to be in a greenhouse or polytunnel.  If you have a sunny windowsill with space for a few pots they can be grown indoors successfully too.
Another job for February is to firm up our plans for growing potatoes. At Ravenscraig we like to grow a few different varieties. This year we're planning to try Casablanca, Sharpe's Express, Carolus and Setanta. All of these varieties have some resistance against potato blight so will hopefully prevent this common virus from affecting our potato harvest. We grow some potatoes in our veg beds and others in potato sacks or pots. At this point in the year, we ask our volunteers to start collecting egg boxes so that we can stand the seed potatoes up to 'chit'. This process ensures that there are short green shoots on each seed potato when we plant them in late March, and this gives them a good start to grow into healthy plants.
You may still have some veg to harvest from your garden in February. Kale, brussel sprouts, cabbages, swiss chard and leeks are all hardy and able to withstand the cold temperatures. This year at Ravenscraig we had a great crop of leeks and still have some in the ground. These are a very versatile vegetable and are a great savoury addition to soups, pasta dishes and stews.
A favourite way to use our home-grown leeks is in a potato bake. Try it out, it's perfect for cold winter evenings!
Leek and potato bake (serves 4 as a side dish)
Ingredients:
2 leeks, cleaned and sliced
1 tbsp olive oil
2 garlic cloves, crushed
300ml cream (or coconut milk)
100ml milk (or plant milk)
800g potatoes, cut into thin (2-3mm) slices
2tbsp grated parmesan (optional)
Salt and pepper
Dried thyme or chilli (optional, to taste)
Method:
Preheat the oven to 180 degrees C.
Cook the leeks gently in the olive oil for about 10 minutes – let them soften. Add the garlic and cook for another 2-3 minutes.
Add the cream and milk and any seasonings you're using, then bring to the boil.
Mix in the sliced potatoes then transfer everything to a baking dish and cover tightly with foil.
Bake for 45-50 minutes until the potatoes are tender.
Remove the foil and sprinkle with the parmesan (if using) then return to the oven for 10 minutes until golden.
You can read what happens in January at Ravenscraig in our last update here.
|