Climate Collage Workshop (online)
19th November, 2020 : 6:00 pm

-

9:00 pm
Free
Book now »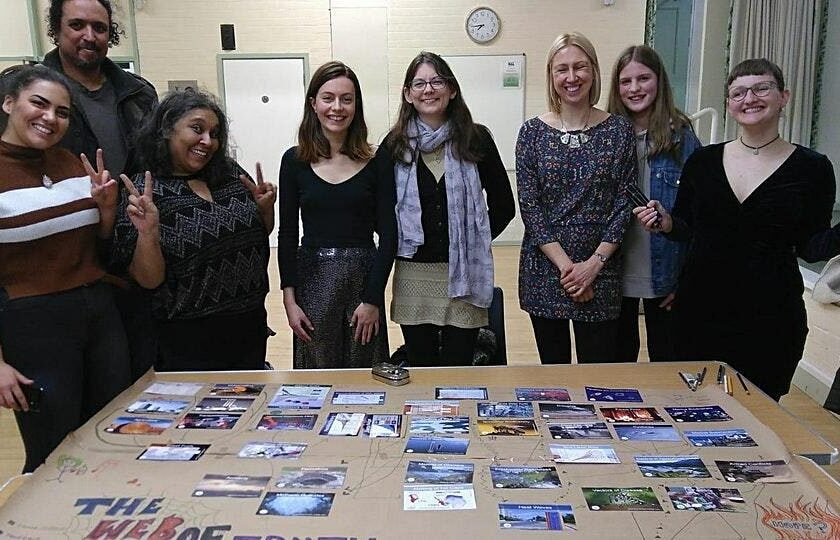 Understanding climate science is hard but the Climate Collage turns it into a game. Join us for this fun free workshop – more than 80,000 people have played worldwide.
You will work as a team to find the cause and effect relationships between 42 climate cards. Together you will build a collage explaining climate change.
Climate Collage is a French-based NGO with the aim to make climate science more accessible.  The workshop will be facilitated by Sophia Cheng, founder of With Many Roots, tackling the climate and inequality crisis via workshops, mentoring and words. She has facilitated more than 80 people through Climate Collage.
What you will get out of it
A clearer understanding of the cause and effect of climate science
A visual overview of the interconnectedness
Test your own knowledge and assumptions
PDF output of your collage and a URL you can keep coming back to for reference
The Climate Collage, founded by Cédricunded by Cédric Rigenbach, is sponsored by Valérie Masson-Delmotte, Co-Chair of the IPCC working group I. (*IPCC stands for Intergovernmental Panel on Climate Change)
Testimonials
"I really feel we got to grips with climate change and got a clear understanding of the links between the science, impacts and costs. The collaborative nature of the game really makes you feel like you are working together to solve a puzzle and Sophia is a great host!" – Craig, Greener Kirkcaldy
"Sophia had an amazing ability to engage us all in a challenging subject in an enjoyable and informative way. She was knowledgeable, friendly and ensured that no one was left out! I would highly recommend!" Jo, UK
"I wanted to thank YOU again for the amazing event you hosted yesterday! It truly opened up my eyes on climate change and made me learn so much, I'm so grateful for you putting this together" 🙌 Ines, Australia
Booking information
This workshop is free to attend, but spaces are limited so booking is required. The workshop will be online using Zoom. Participants should be comfortable with a computer (we will be using an online collaboration tool called Mural).
Related Events