Easy and waste-free Burns Night supper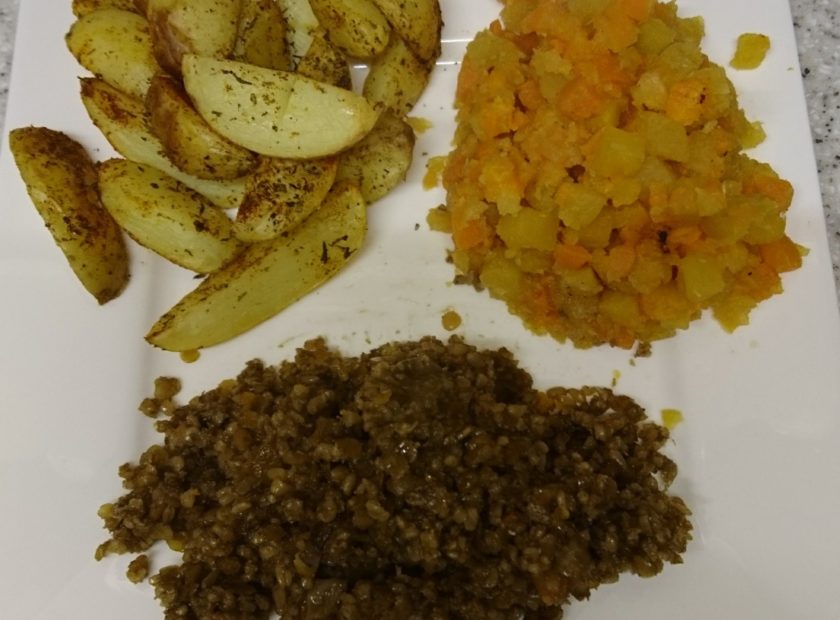 With Burns Night fast approaching on Thursday 25th January, volunteer Wendy shares her take on the traditional burns supper with a tasty, easy and waste free Burns Supper.
Haggis
You can make this yourself, or buy it from a butcher or supermarket. Whatever you prefer, cook it using the instructions given. I bought a vegetarian haggis, it was really easy to cook in the microwave for a total of 8 minutes and one roll was plenty for 4 suppers.
Neeps
Instead of just neeps, I used carrots as well as I had some leftover in the fridge. Carrots also add a bit of sweetness to the neeps.
Chop the neeps and carrots into small cubes – this means they take less time to cook, saving energy. Then boil them in water with a 1/4 teaspoon of salt until they are soft enough to mash. Drain and mash them with a spoon of butter and some pepper. We like ours a bit rough so did not mash them all the way, but it's up to you.
Tatties
Also known as potatoes of course! Instead of mashing our potatoes we made potato wedges. They are tasty, healthy and with the skin on are much easier than peeling, and produce less food waste!
I made enough for 4 portions, using around 16 small potatoes washed until the skins where clean.
Cut each potato into 4, leaving the skin on, then boil them in water for about 15 minutes (they don't need to be fully cooked – just slightly softer). Put them in an oven safe dish, sprinkle with oil, salt, pepper, and either chilli powder or smoked paprika (depending on taste) then cook in the oven on 200 degrees for 15 minutes. Toss them half way through cooking.
Peelings
If you prefer to peel your potatoes, you could use the skins to make crisps (along with the skins from the neeps and carrots) – just toss them with oil and your favourite seasoning and bake them in the oven until they are golden brown and crispy! They'll make a tasty starter or snack.
The finished dish:

Happy Burns Night!
|