Dunnikier Park Project takes shape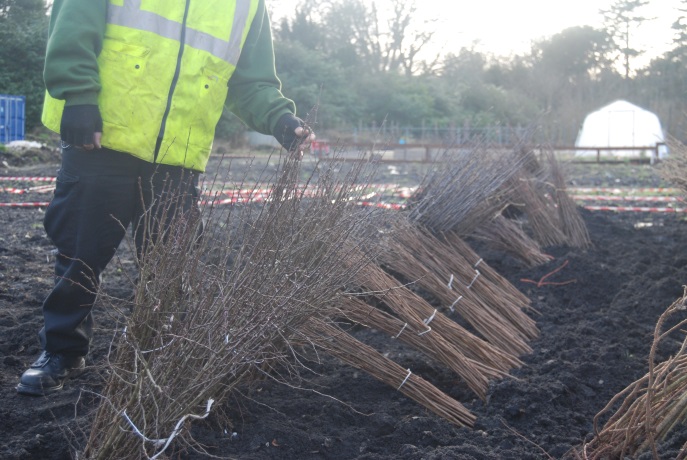 Ravenscraig Walled Garden, The Kaleyard and EATS along with as a whole host of other local growing projects signify a move towards Kirkcaldy becoming a place where allotment fruit and veg can be found more readily.
The skills needed to do this sort of Allotment growing is now offered with the help of charities and environmental groups keen to give lessons and workshops in the local area.
Dunnikeir Park is getting a major boost in 2013 with the development of a forest garden habitat on its eastern margins which will enhance what is currently bare, soggy and mostly underused grassland.
The combined efforts of students from local schools, community groups and volunteers will create a habitat rich in diversity and is an exciting opportunity for different communities to work together and benefit the whole town.
Using a mix of orchard tree, soft fruit and vegetables alongside wild flowers and perennial shrubs the landscape will be transformed into a productive environment attractive to both wildlife and local residents as a space to visit spend time and enjoy.
More info on Kirkcaldy becoming greener…
The first stage of the project was delivered by Fife Council who supplied around 4000 shelter belt specimens, a mixture of tree saplings and roses for height and ground cover, and turned over the turf ready for planting.
The weaving strip runs for around 60m with an additional stand intended below and will address the exposed topography and high winds which could damage a young forest garden plantation such as this.
When established the shelter belt will also provide an island stop-over through the park for a whole host of wildlife including nesting birds as well as soaking up some of the surface flooding as tree saplings take root and mature.
It is a great opportunity for local residents and students to learn where, why and how to plant trees and through working towards a common goal the project ties community spirit and education together very neatly.
The second stage is to actually plant the shelter belt saplings. This will be done mainly by students at Kirkcaldy High School who have taken on the challenge to develop this area and are keen to get their hands dirty.
We arranged a workshop session for the teachers to run through the best way to plant saplings and give them the best possible start in life.
Ronnie Mackie who has worked at The Ecology Centre for over 17 years brought his best helper to offer his experience to the group.
The teachers were not massively enthusiastic (after all we were taking up their lunchtime), the rain was heavy and the wind was howling so we cracked on and made the informative lesson as short as possible.
Ronnie suggested the following steps for best planting practice:
Select your trees – Either from cells or bare rooted.
Select your location – Not too wet, not too dry!
Dig a hole – Put in a spade and open up a space for the tree.
Plant the tree – Make sure the roots are covered.
Cover the tree – Put back soil around the base of the tree.
Stamp down – Stamp down soil around the tree to reduce air spaces.
It will be great to go along and do this work with the school kids and work with the local community to create a new exciting, productive landscape for Kirkcaldy.
|