Cycling in Scotland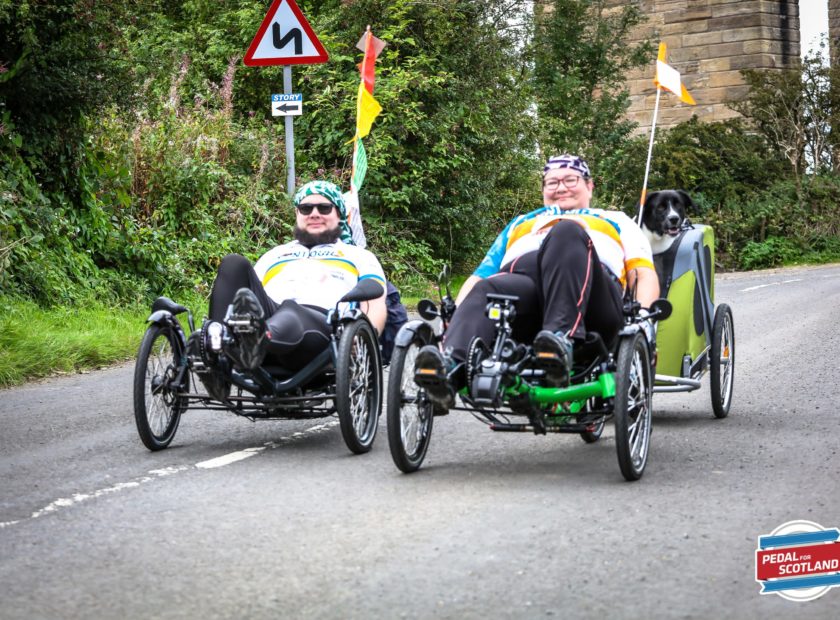 Media Volunteer Wendy writes about her experience of taking part in the Pedal for Scotland Classic Challenge in her great blog.
On Sunday the 8th of September I joined the 20th anniversary of the cycle event 'Pedal for Scotland'
It had 3 options:
– Wee jaunt from Linlithgow to Edinburgh, 10 miles
– Classic challenge, from Glasgow to Edinburgh, 45 miles
– Big Belter, across Scotland, 100 miles
We were ambitious and signed up for the 45 mile classic challenge.
We had our bikes serviced before the big day and had plenty of practice in the months before. You can not go and do an event like this on a bike that will brake after 5 miles or try to attempt to cycle 45 miles if you have never done more than 10 miles.
Now we prepared for this event, any ride you undertake requires proper planning and preparation. We packed a healthy set of energy bars and snacks for along the way and we each had a litre of water and a bottle of sports drink with us. A rain coat, tyre repair kit and dry set of clothes and a sweater for when you finish are all recommended. It is Scotland after all, it might rain and there is nothing worse than making your way home in wet clothing.
The biggest bonus of Pedal for Scotland was that it was a car free route, meaning there where no cars on the road that we cycled on – that was amazing! As I'm Dutch I'm very used to good quality car free and separate bike paths so having the road to ourselves was wonderful. We still had to stop for traffic lights and adhere to all normal traffic rules of course. The event attracts about 7000 people so that makes closing roads a lot easier. If you want to cycle without cars in Kirkcaldy you can always go to Beveridge Park, Dunnikier Park, Ravenscraig Park and along the Esplanade.
No matter how much preparation you put into things sometimes you just have bad luck. I only made it to Linlithgow due to a part of my bike breaking that was not so easily fixed. I ended up doing 33 miles that day, together with my dog, Sully. My husband finished all 45 miles and than another 25 miles home (he is very well trained).
Sadly this was the last time Pedal for Scotland was hosted, on the site they explain why:"We are now looking forward to the next stage: supporting shorter, inclusive and free events across the nation to extend the benefits into more communities in every part of Scotland, helping increase the use of the newly emerging cycling infrastructure in many places.Since 1999, the Pedal for Scotland Glasgow-Edinburgh ride has created a legacy for cycling in Scotland including:
Health impact: thousands of people have been inspired to take up cycling or cycle more often in training for the event.
Charity fundraising: participants have raised millions of pounds for good causes, most recently tackling child poverty.
Economic impact: an annual economic impact of £1 million.
Funding impact: large amounts of value-in-kind and sponsorship to the sector, for example advertising on STV that helped to promote cycling nationally.
Diversity of participants: people of all ages and abilities have pedaled for Scotland, including celebrities, Government Ministers, refugees and charity fundraisers.
Inspiring cycling events: across Scotland there are now more mass participation cycling events of different types with greater public awareness than ever before. "
So now that the event is over we won't stop cycling. We like cycling on the road near our house (we have a nice 10 mile round we can do on back roads), we go to Loch Leven and cycle around there.
If you really like cycling you could join a local club in Kirkcaldy or join Greener Kirkcaldy on one of their rides. See their events page for information.
If you live elsewhere find the club near to you: www.britishcycling.org.uk/clubfinder
Enjoy cycling and stay safe!
|