Building work starts on our Community Food Hub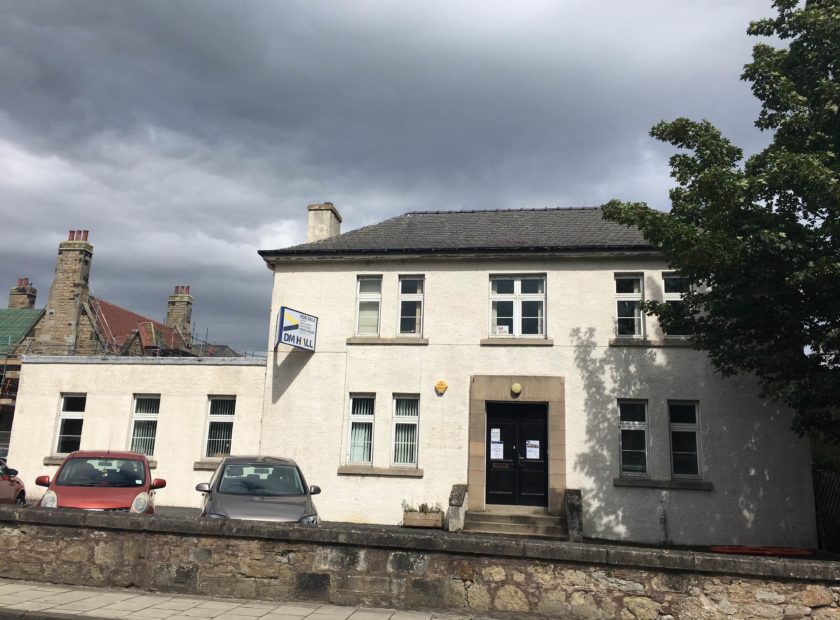 We're excited to announce that work has started on the refurbishment of our new building at East Fergus Place, Kirkcaldy! Local builders, John Smart & Son started work on Monday 23rd July and the refurbishment is expected to be completed on 1st February.
We are refurbishing the old library headquarters at East Fergus Place, Kirkcaldy after being awarded a grant from the Big Lottery Fund's Community Assets programme to take forward our Community Food Hub project. The building will house our new Community Food Hub as well as our office and an events space. As part of the move, we will be closing our high street office and High Street Hub and moving our staff and activities up to the new building.
The Food Hub, which will launch in early spring, will be a place for people to come together to grow, cook, eat and learn. It will include a fully equipped kitchen, training garden and events space, and offer events, courses and workshops in all aspects of food and drink, training, volunteer opportunities, and community meals. It will also include a base for a Food Coop promoting local seasonal produce, a community fridge redistributing short-dated food, a pop-up community café, and will act as a distribution point for Kirkcaldy Food Bank.
The building will also be a base for our other events and activities, including our repair and reuse classes, bike activities and the Cosy Kingdom energy advice service, and we will also continue to run events, growing workshops and volunteering at our Community Training Garden at Ravenscraig Walled Garden.
The new building will be open to all. People will be able to visit us for energy advice and find out more about our projects. We hope to encourage all of our community to get involved, and we'll have a wide variety of events and volunteer opportunities. The kitchen and events space will also be available for community groups and individuals to use.
We purchased the building at East Fergus Place with a grant from the Scottish Land Fund, a Scottish Government initiative which gives funding and support to help communities take ownership of land and buildings for projects to benefit local people. The refurbishment is being funded by a grant from the Big Lottery Fund.
We'll be constantly updating our community on our progress. Join our monthly e-newsletter, like our Facebook page or follow us on Twitter for regular news on the work.
|