Big Thumbs Up for Greener Kirkcaldy's Sewing Class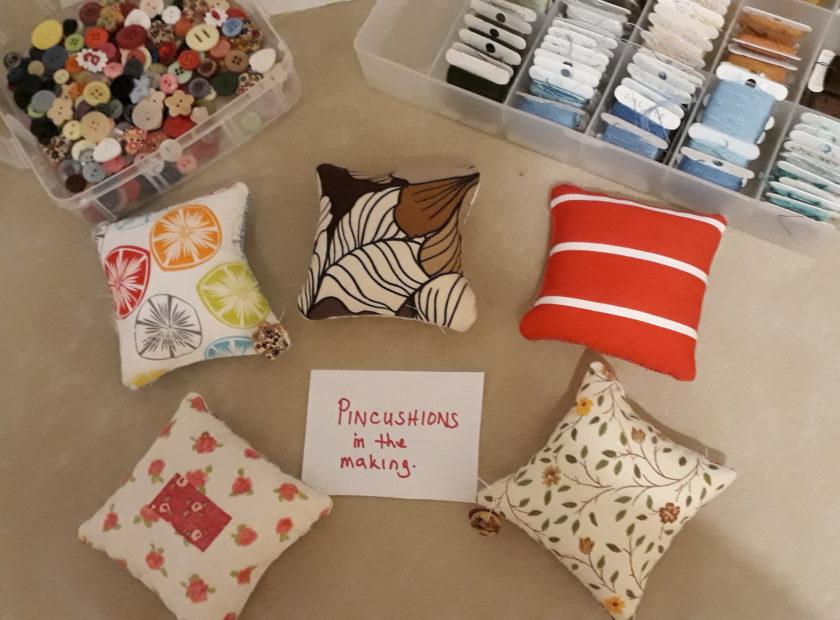 Media Volunteer Joan writes about her experience of our January 4-week 'Learn to Sew' course. 
Our tutor was Gabbi, a seamstress from Kirkcaldy. Six people came along to the four week class, most had never used a sewing machine before.  At the first class, Gabbi taught hand sewing and the class learned how to thread the machines and make a pin cushion. Very useful to everyone.
Second week we were taught to control the machine by sewing along the lines on a template and begin to make a bowl holder for hot soup, pasta etc.
The third week everyone finished their bowl holders and were told we could bring in garments the following week for altering or upcycling. Everyone was interested in this and several of the class had brought items with them. The forth week we upcycled our pieces that we had brought along.
Some quotes from the participants
"As a complete beginner I have enjoyed the course. The tutor and volunteers have been great and very patient and helpful. I've enjoyed learning to use the sewing machine and would like to continue to develop my new skills." – Sharon
"I have enjoyed this sewing course and hope I can continue with more sewing courses in the future. The tutor and volunteer have been friendly and very helpful throughout the course. Thank you for running this sewing course." – Carla
"This has been a lot of fun and challenging. Learning to sew is not easy but this class has broken things down and the guidance provided be everyone has been fantastic." – Alistair
"I enjoyed the classes. Terrific support very much enjoyed the hand sewing which is so very relaxing. Not really ready for the machine yet but would like to learn. Patchwork would be fun. Gabbi is wonderful both for sewing and for mum hen. Will watch the programme for future classes. Joan was a terrific support too. Thanks to all who helped make it a very enjoyable basic sewing class. Well planned with plenty of help. I would say it was too short , six weeks would be better." – Ken
"A very enjoyable basic sewing class. Well planned with plenty of help. I would say it was too short, six weeks would be better." – Celia
"Really enjoyed this class- can't wait to sew more! Great, enthusiastic and patient teaching support made for a class that was both challenging and satisfying." – Emma
|