A guide to draught-proofing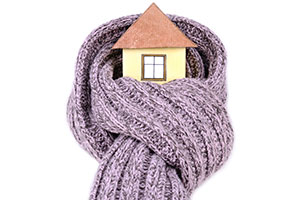 Sometimes, no matter how well you heat your home you can still end up losing heat through the cracks and gaps in the structure of your property. These gaps let in draughts – Where the warm air escapes and the cold winds gets in.
Draughts can be a common problem for a lot of people, more so those residing in older, aging buildings or where repairs and improvements have been fitted over the years, but cracks and gaps often remain. People in general usually just get accustomed to these draughts, shrugging it off as being part of the character of their home.
This does not need to be the case, according to the Energy Savings Trust – draught proofing, the practice of sealing off draughty cracks and gaps, could save around £25-£50 a year off your fuel bills as well as being a cost-effective measure to keep your home warm and cosy.
Draughts typically get into your home through the following areas:
Around Windows and Doors
Between or around Floorboards & Skirting Boards
Pipework through to the external wall
Electrical Wall Fittings
Loft Hatches
While there are many professional companies around that you can pay to draught proof your home, you don't always need to pay out a massive amount for effective draught proofing. According to Which?, a professional installer could often charge up to £580, where the cost of doing the installation yourself could be much cheaper.
If you do however choose to use a professional remember to ensure they comply with all with a professional code of conduct and are registered with the National Insulation Association and/or the Draught Proofing Advisory Association.  Alternatively you could check out Fife Councils Trusted Trader website to find a reputable company and always try to get at least 3 quotes before committing to getting any work carried out to ensure you're getting the best deal.
Doing It Yourself
Remember – You don't need necessarily need someone else to draught proof your home – DIY Draught Proofing is often just as effective and could cost you a fraction of the cost, in some cases even less than £10 and it would probably take less than an hour depending on what you're draught proofing.
Here are some useful tips for quick, cheap and effective solutions to common problem areas.
Using a Sealant around windows, skirting boards and doors can be a cheap and effective measure to fill gaps and prevent draughts getting in. Most households may even already have some of this sitting around from other DIY maintenance in the bathroom or kitchen.
Cracks in or around the wall, pipework or window frames could be filled using decorators wall filler, which can be bought from your local Hardware store or sometimes even in a pound shop.
Draught proofing tape and other products can be bought from a hardware store, take a look at one of your local businesses and see what they have on offer. The tape can be used around doors or loft hatches. Remember to ensure your loft & loft hatch are insulated properly.
Gaps under your external doors or through letter boxes can be fixed by attaching a brush or letterbox cover which again can be bought for less than a fiver. You can also use a draught excluder at the bottom of external and internal doors to stop draughts.
If you don't know where draughts are coming from you could light a candle and slowly pass it a few centimetres over a surface to identify where it's coming from  – the flame will flicker and blow if there's a draught coming through the area it passed over.
Make your own Draught Excluder
Draught Excluders have been a popular solution to stopping draughts through the bottom of doors for decades. You don't even need to go out a buy one; you can make a couple of effective draught excluders by recycling a pair of old tights or legwear.
Simply get the tights and cut them in half to separate the legs from each other. You can then fil them with old fabric, stuffing or even old newspaper till you have a sausage shape. Once it's filled up, seal up the end buy typing it into a knot, or stitching it if you prefer.
You can then decorate your DIY draught excluders anyway you wish. You could even get the kids involved and attach some old fabric to make ears, eyes and noses to make a sausage dog or a mouse or you could make a forked tongue out of old fabric or felt to make a snake.
Do it safely!
An important thing to remember when draught proofing is to not go over the top, ventilation is important in a home and not all draughts need to be sealed. Never block or draught proof purpose built ventilation, including flues and vents built into walls as ventilation for boilers or fires; these are there to provide fresh air for combustion and as a failsafe measure to protect you against the risk of Carbon Monoxide Poisoning. Likewise never block off air bricks or trickle vents as these are here to provide ventilation to protect against condensation and moisture build up – especially in your bathroom or kitchen.
Remember if in doubt, Greener Kirkcaldy is here to help. Call us for a free & impartial home energy advice visit from one of our friendly energy advisors.
|