A Fruit Tree for Every Garden in Fife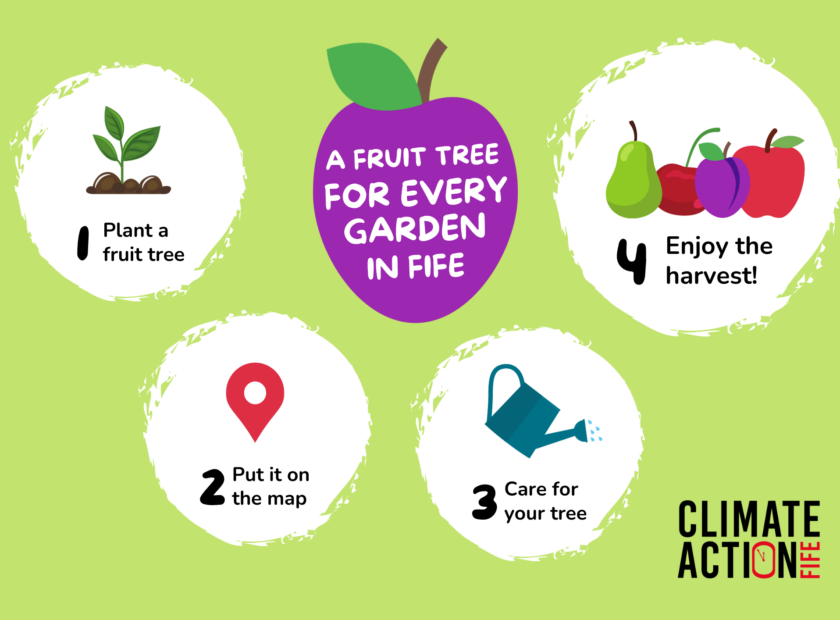 Climate Action Fife's A Fruit Tree for Every Garden in Fife campaign aims to help everyone in Fife plant a fruit tree in their garden. 
Planting a fruit tree is one of the most climate-friendly things that people can do. Fruit trees provide delicious seasonal produce with no food miles. They also lock up carbon during their lifetimes. 
Climate Action Fife has a limited number of fruit trees to give away at special events each winter. Four workshops will take place across Fife in early 2024 to help people learn how to take care of their fruit tree. 
If you already have a fruit tree in your garden, you can add it to a growing map of trees around Fife.  If you don't have a garden, there are still lots of ways to get involved. You can map fruit trees or become a volunteer Tree Warden to help look after your local trees and woods. 
Climate Action Fife is a Fife-wide partnership project, bringing together individuals, communities, local government and businesses to tackle the climate emergency and make Fife a greener and fairer place to live. The project is funded by The National Lottery Community Fund's Climate Action Fund.
|