Scary Muffins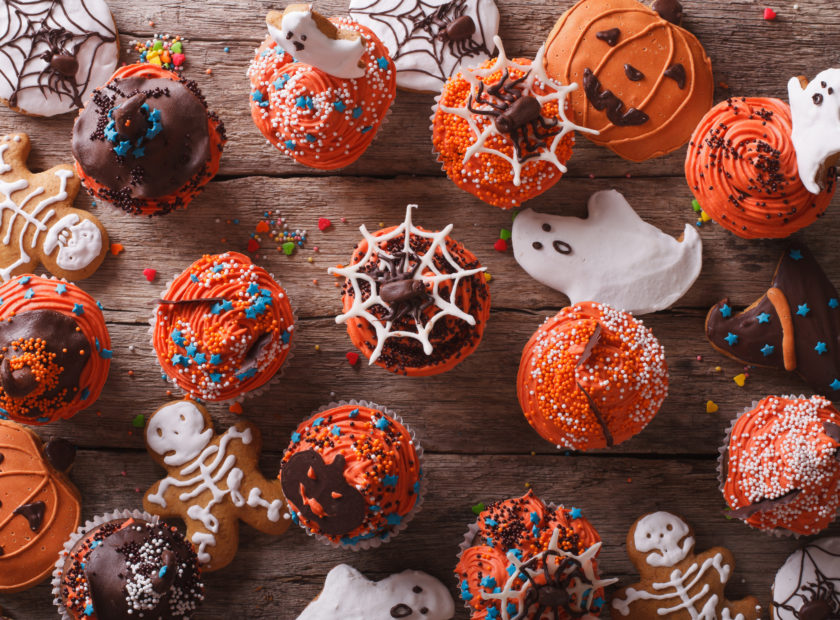 Celebrate the scariest time of the year by making this delicious muffin recipe.
Basic Muffin Recipe
Serves: 6
Time: 15 minutes prep time, 15/20 minutes baking time
Ingredients
1 egg
120ml milk
4 tablespoons vegetable oil
200g plain flour
100g caster sugar
2 tsp baking powder
½ tsp salt
Options for flavoured muffins:
A Handful of grated carrot; a handful of grated apple; 1 mashed ripe banana; raisins and nuts; chopped fresh berries; or other dried or fresh fruits.
Method
Preheat oven to 200 C / Gas 6. Grease muffin tin or use bun paper cases to line the tin.
Beat egg with a fork. Then stir in milk and oil. Sift flour into a large bowl. Add sugar, baking powder and salt.
Add dry mixture to the wet mixture and add your optional ingredients.
Add your optional ingredients and stir lightly. DO NOT OVERMIX.
Fill muffin cups 2/3 full. Bake 20 to 25 minutes until golden brown or skewer comes out clean.
Decorations
 Buttercream icing
100g unsalted butter
160g of icing sugar
Food colouring
1.Beat the butter until soft.
2.Stir in the icing sugar a little at a time.
3.Add food colouring of choice. Pipe on buttercream or spread on the muffins with a warn knife. Use a fork to make patterns.
4.Decorate with sweets and shapes of choice.
Sugar Icing
125g Icing sugar
15ml warm water or lemon juice
1.Add warm water or lemon juice to the icing sugar gradually until it is thick enough to coat the back of a spoon. Beat until smooth (add more water or icing sugar if required).
2.Add colouring of choice.
3.Pipe or spread onto muffins with a knife.
4.Decorate using sweets and shapes of choice
5.Pipe icing shapes such as webs, ghosts, spiders etc onto greaseproof paper, leave to set and transfer carefully to muffins.
|