Pumpkin Recipes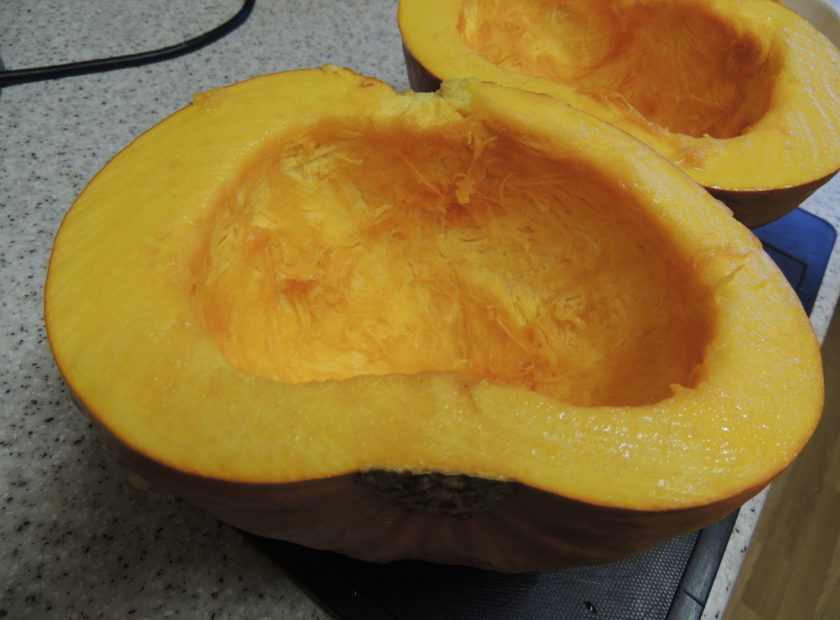 What do you do with all your pumpkins after Halloween?
18,000 tonnes of perfectly edible pumpkin goes straight into the bin every Halloween!
Even after you've carved them, wash them and bake them and you can use them for any of the following recipes (and lot's more of course)
How to prepare a pumpkin for eating?
I have always done it this way, I know that sounds bad, but this works for me. It's easy and takes hardly any effort.
Cut the pumpkin in half
Scoop out all the seeds (save them and roast them, they are delicious!)
Cover in (olive) oil, salt and pepper and put on a baking tray
Add a cup of water underneath the pumpkin
Cook in the oven for 30 to 60 minutes until soft
Scoop the inside out of the skin and you are ready to go
Pumpkin Stew (Vegan)
What do you need:
puree from 1 pumpkin (see above)
1 bag of broth mix
4 red onions
6 cloves of garlic
8 carrots
1 green pepper
1 yellow pepper
4 stock cubes (vegetable)
1 can coconut milk
paprika powder
curry powder (mild)
chilli powder (not necessary if you don't like it)
salt and pepper
What to do:
Soak the broth mix for at least 12 hours (best to do so overnight) in a large bowl filled with cold water
Cut all the vegetables into smaller pieces (see picture above)
Fry the onions, garlic and carrots until light brown (fun fact: frying the carrots will make them taste sweeter)
Add the peppers and pumpkin and stir for a few minutes
Add the broth mix (wash and drain before adding it)
Add 2 litres of water and the stock cubes
Bring to the boil then cook on a low heat for at least an hour until the carrots and broth mix are cooked. Check regularly as the water might evaporate or get soaked up, you will want to add up to another 2 litres to keep a nice solid mix. Be careful not to let it run dry or turn it into soup.
Stir in a can of coconut milk and flavour with paprika, chilli, salt and peppe (I added 6 teaspoons of paprika, 2 teaspoons of chilli, 4 teaspoons of pepper and a little salt)
Pumpkin oatmeal cookies
What you need:
150 grams butter
2 tablespoons golden syrup
275 grams flour
250 grams coconut
150 grams pumpkin puree
250 grams rolled oats
180 grams caster sugar
What to do:
Pre-heat your oven to 180C.
Grease or line two baking trays
Measure all dry ingredients into a mixing bowl
Carefully heat butter and golden syrup together in a saucepan until butter has melted
Add to dry ingredients and mix
Spoon in the pumpkin and mix
Make portions about the size of a soup spoon and place them on the baking trays
Bake for 15 – 20 minutes or until golden brown
|