Make Your Own Takeaway: Chicken & Mushroom Fried Rice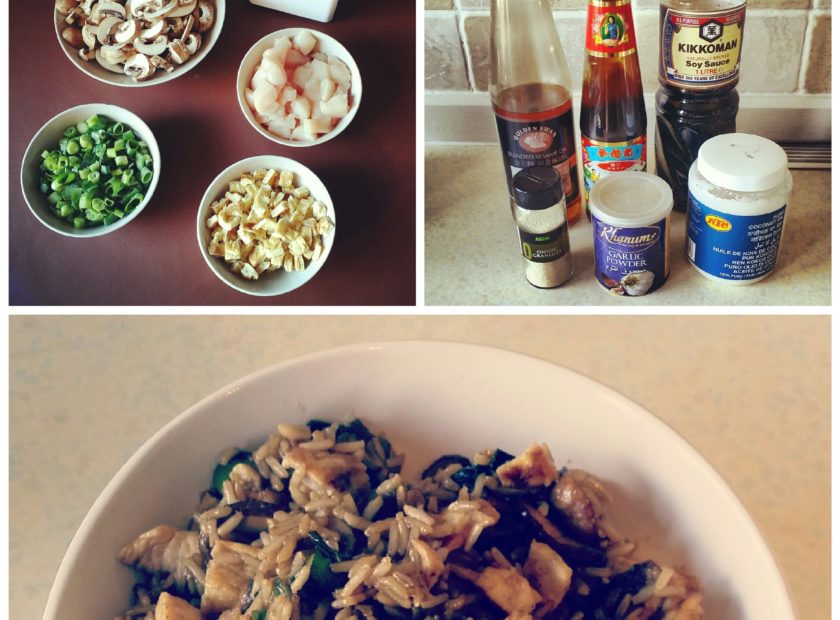 When I ordered a Chinese takeaway a few months back, it really dawned on me how expensive takeaway food can be and that perhaps there might be something of better quality for less out there . . . I was quickly led to the idea of attempting to make it myself after having a look at other 'instant' places that were just as expensive!
I decided to look for the best products I could in order to concoct a recipe for Chicken Fried Rice, which is pretty much my favourite thing to order from the takeaway in those moments of laziness! You don't have to choose the same products as those I am about to mention; all ingredients can be purchased in one place at the supermarket if it is more convenient; I just like to wander about a little to find different things!
I took myself to Wing Fung's in Hayfield Industrial Estate in Kirkcaldy to buy some top quality items for my dish; soy sauce, oyster sauce and garlic powder ended up in my bag! These guys are responsible for providing a 'cash and carry' to Fife's takeaway establishments so definitely have a bit of knowledge about the best things to buy! I wanted to make something quite simple, tasty and also relatively healthy so I decided to add spring onions, mushroom and egg to the recipe and thought that brown rice would be a much better choice in terms of the health benefits and texture. Lastly, I needed some good quality chicken so I settled on some great stuff from S. Mitchell of Puddledub (a fabulous butcher in Kennoway). I have also used chicken from LIDL; even though it is from a supermarket, it is the best quality supermarket chicken I have tried and it is really cheap!
I usually cook enough of this dish to serve four people; it is a wonderful thing to separate into tupperware boxes for lunch over the next couple of days. It can be reheated again once and is actually rather excellent served cold too!
So, the recipe goes like this (it is based on cooking for four people)!
Ingredients
225g of brown basmati rice (cooked and immediately shocked cold)*
3 x medium chicken breast (diced small)
4 x large egg
12 x spring onion (chopped small)
1 x tub of chestnut mushrooms (about 250g)
1 x tbsp of sesame oil
3 / 4 x tbsp of oyster sauce
6 / 8 x tbsp of soy sauce
2 x tsp of garlic powder
2 x tsp of onion salt
2 x tsp of salt
4 x tsp of pepper
* The rice must be shocked cold after cooking. If rice is not cooled properly, this allows for rather serious bacteria to develop which can cause food poisoning. Poorly prepared, cooled and stored rice is one of the most common ways to catch 'Bacillus Cereus' food poisoning (also known as 'Fried Rice Syndrome')!
Method
The Omelette Bit
Take two small bowls and in each of them, beat two eggs and add 1 tsp of salt and 2 tsp of pepper. This will create two seperate omelette mixes. The reason for doing two is quite simple; my wok isn't big enough to cook a four egg omelette in the best way so I do it twice!
Heat your wok, add half a tsp of coconut oil* and cook an omelette. After the first is done, do exactly the same again.
Small dice both omelettes and put aside in a clean bowl for later.
The Veggie Bit
Add one tsp of coconut oil* to the wok and then add in the spring onions for one minute, followed by the mushrooms.
After about five minutes of cooking add one tsp of garlic powder and one tsp of onion salt to the vegetables and mix well.
Continue to cook these until they are softer however still have a little firmness to them too. Put these aside in a clean bowl for later. If you would like a vegetarian version of this dish, please skip the next part of the process!
The Chicken Bit
Add one tsp of coconut oil* and add the chicken pieces; cook until slightly golden brown (always check the biggest pieces to ensure they are cooked all the way through). Put this aside in a clean bowl for later. Make sure the chicken is constantly stirred throughout the cooking process.
The Rice Bit
Add one tbsp of sesame oil to the wok and then add the cooked (and cold) rice. Cook this for two minutes.
Add all of the oyster sauce then mix in thoroughly. Do the same straight afterwards with all of the soy sauce and then the remainder of the garlic powder and onion salt.
Let's Build The Dish
Add the cooked vegetables to the rice and stir in thoroughly and as evenly as possible.
Add the omelette to the rice and do the very same.
Lastly, add the chicken to the dish and do the very same.
Notes
* I use coconut oil because it is a healthier option and heats up to a higher temperature for cooking however ground nut or vegetable oil would do the job for this part of the process too.
This is a very easy dish to make! All quantities are a rough guess and anything can be added to this dish to make it more to your taste. It's great to experiment with! If you are cooking for two (which I often do), reduce all quantities by half and cook using exactly the same method. This proves that good takeaway food doesn't have to be expensive and that you can sometimes actually make it quicker than if you were waiting for a delivery! I hope you enjoy it!
|