Have a Waste Free Christmas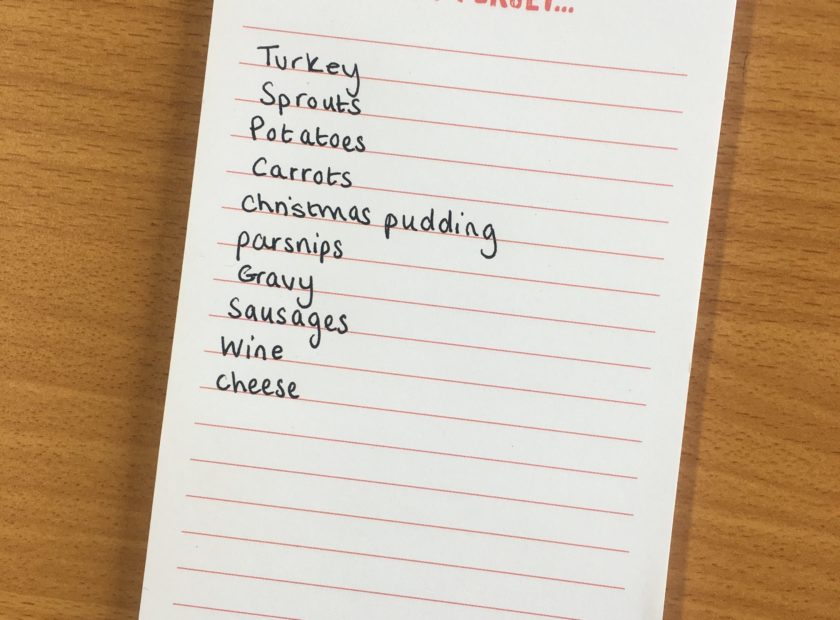 Media Volunteer Lauren shares her top tips for a waste-free Christmas in her latest blog.
So, it's that time of the year again, when everyone goes mad buying gifts, decorations and food. But what if there was a way to reduce the madness and enjoy the traditional aspects of Christmas once again? Well, help is at hand as I have provided some tips to have a waste-free (and hopefully stress-free) Christmas.
Being organised is essential to taking stress out of Christmas. Write lists for everything – presents, food and drink, wrapping essentials etc. Trust me it's a must, you won't forget anything when shops are so distracting, you'll reduce waste by not buying too much, and it stops you over-spending.
Tip 2 – Pick up a bargain!
With so much to buy at this time of the year check around for an item in several places, including second-hand online websites and charity shops, before parting with your hard-earned cash. You might get a real bargain.
Tip 3 – Reuse and recycle!
By keeping Christmas wrapping paper from last year I have been able to reduce the amount I needed to buy this year. I have also made my own Christmas cards by using craft pieces gathered throughout the year and reusing parts from cards I was given last year – good for making gift tags too.
Tip 4 – Get the kids involved!
Kids love Christmas so here is a great excuse to get them to help you. Get crafty with your kids and make hand-made crackers. Much more cost-effective and lots of fun to do and can also be more personal.
Get them baking. Hand baked Christmas cookies and cakes are always a winner. I recently made melted snowmen biscuits with the elderly residents I care for and they looked fab and tasted great.
Tip 5 – Make decorations!
Go for a walk in the woods one Sunday morning and gather up some pine cones. These are great for making decorations and can be sprayed whatever colour you want.
Draw around your hand on green paper, cut it out repeatedly, set them out in a circle and add red dots. Can you guess what it is? You'll have to make it and find out.
Tip 6 – Have a clear out!
Help charity this year by donating any of your unwanted items and make room for new things you will receive. This helps to reduce landfill waste too!
Well folks, I could go on and on forever, but I'm sure it would be Christmas by the time you finish reading, so I wish everyone a happy and waste-free Christmas and hope you all look after each other and our lovely planet into the New Year.
|