Go Green in 2014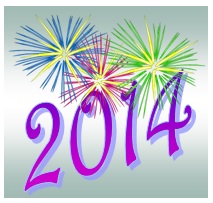 Happy New Year!
Now that Christmas is over it's time to get thinking of new year's resolutions. For many of us these will focus on spending less money, eating healthily and getting fit (making up for a very merry Christmas!). But have you thought about setting yourself some green resolutions that can help you do all of the above whilst also reducing your carbon footprint?
For example, one of my resolutions this year is to eat less meat. I'm not ready to become 100% vegetarian, but I am conscious that the meat industry has a massive carbon footprint. So I'm going to plan one or two days a week where I will only cook vegetarian food. This is also much healthier and meat can be quite expensive so this should save me some money too!
I asked the staff here at Greener Kirkcaldy to share some of their green new year's resolutions.
So why not help save the planet (and some money!) and have a green 2014. Try some of our ideas or start the New Year with some green resolutions of your own. We'd love to hear your ideas, so get in touch on Facebook or Twitter.
Have a happy, green new year!!
|