Cooking with Winter Veg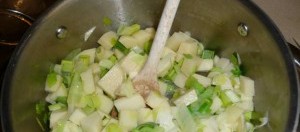 By Jean and Ross Laird
We were sad to have to postpone our workshop on this but Jean and Ross show us how to enjoy the best of the season's produce.
The colder weather and dark nights come with a bonus for us. Our family love the warming soups and stews that can be made with the produce of the season.  Favourite ingredients include; leeks tatties, swede-neeps, carrots, parsnips, savoy cabbage and kale.
Soup is a great way to cook with locally grown seasonal veg. A regular on our lunch time table is leek and tattie soup, and we have included the recipe for anyone who fancies making it. There are countless recipes to be found online and we own several cook books which just contain soup recipes. Other favourite soups include Russian vegetable, carrot and coriander and good old lentil.
Try roasted root veg. Cut your chosen root veg into batons and toss in oil then season. Put in a roasting tray in a hot oven for 30-40min then enjoy. Why not try mixing it up and add some  ¼ onions too.
We are keen on stews too and always add plenty of root vegetables to a stew. Any root vegetable like; carrots, parsnips and neeps will complement a beef stew and add sweetness. A pot roast of beef with loads of winter veg is a firm favourite and will feed our family (famously big eaters) for 2 days at least. We put a neep (cut into chunks) 6 carrots, some shallots, celery and mushrooms into the roasting dish. Then we put a large piece of brisket on top (a good cheap cut to roast) and sprinkle it with salt pepper and mustard powder. Next we pour over 2 pints of hot water combined with a large splash of Worcester sauce. Chuck in some thyme and a bay leaf. Cover and roast in the oven on a low heat for at least 3 hours. You can thicken the gravy with a little butter and cornflour paste. Served with mashed potatoes this is real comfort food.
Kale deserves a special mention- we love it. It is so easy to grow and keeps going all winter. We substitute it in recipes which ask for cabbage – kale and chorizo broth is delicious.
Leek and tattie soup
Ingredients-
25g butter
3 leeks
5 medium potatoes
Swiss Marigold Powder
Melt the butter and sweat the washed chopped leeks and peeled diced tatties for 10mins. Make 1 ½ l of stock with the Swiss Marigold Powder and add to the pot. Bring to the boil and then turn down and simmer for 30min. Season to taste and serve. We serve it chunky, but you can liquidise it if you prefer. You can also add more stock if you prefer a thinner soup. If you feel like it add a little milk or cream at the end. R
& J Laird
|