A greener Christmas with Greener Kirkcaldy, the Fife Diet, and Freegle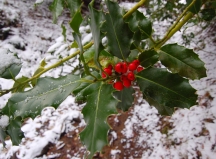 ARCHIVE: October 2010
Thursday 9th December 7pm-9pm, at the Greener Kirkcaldy centre
Come along to our fun and informal evening event to share ideas and recipes for having a greener Christmas!
There will be a focus on food – tips on planning a locally-sourced Christmas meal, dealing with leftovers, and interesting vegetarian options – and also environmentally-friendly ideas for presents and decorations.
Central Fife Freegle will be there – with a special Christmas 'Give & Take' stall. You can bring along – or take home for free – small Christmas items such as stocking fillers, small unwanted gifts, wrapping, old Christmas cards to make tags or decorations, Christmas decorations. We'll have a collection box at the Greener Kirkcaldy centre a few days before the event if you can't be there on the night.
Tasty local and seasonal drinks and nibbles will be provided. There's no need to book – just come along.
|