Our boardroom-style Meeting Room holds up to 12 people and is fitted with a whiteboard and projector. If your meeting is hybrid, a conference speaker and HD webcam are available upon request.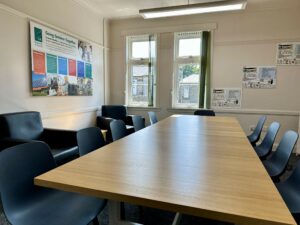 Our Terms and Conditions
All hirers must read, and agree to abide by, the Terms and Conditions of hire.
Booking and discounts
To make a booking, please complete the Room Hire Booking Form. You can also email us for more information, call us on 01592 858458 or pop in for a chat.
We give a discount for block-bookings: bookings for 6 or more sessions will receive a 20% discount on the total fee.
Hire of both the Community Space and Production Kitchen: hirers will receive a 50% discount on the hire of the Production Kitchen.
Prices are per hour, half-day (9:30am till 1pm or 1pm til 4:30pm) or day (9:30am till 4:30pm).
Prices
---
Day
(standard rate)
£50/day
£30/half-day
£10/hour
Out of Hours Price
(caretaker on site)
£149/day
£79.50/half-day
£21/hour
Out of Hours Price
(opening & closing only)

£72/day
£41/half-day
£21/hour
---