Kirkcaldy Online Walking Festival 2020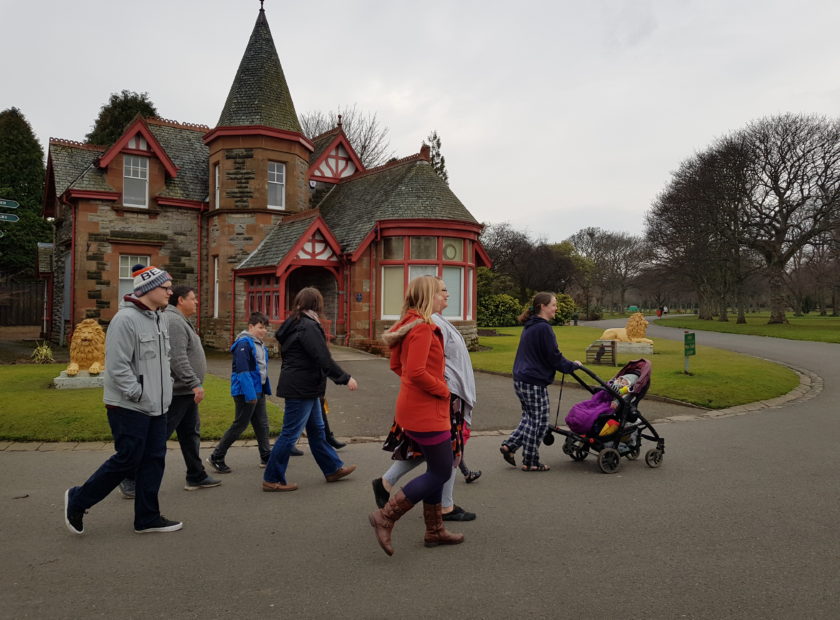 Now in its third year, Kirkcaldy Walking Festival brings together local groups and organisations from around Kirkcaldy to run a variety of activities, encouraging people to walk in their local community, get active and bring people together to enjoy different aspects of Kirkcaldy and Dysart.
Kirkcaldy Online Walking Festival will run from Saturday 1st to Sunday 9th August 2020.
This year's festival will be a little different. With restrictions on gatherings still in place, we have decided to hold Kirkcaldy Walking Festival 2020 online. We have asked a number of local organisations to share their favourite walks around the town and have made them available for download, so you can walk them in your own time. Thanks to Fife ABE, Homestart, Bums Off Seats, Kirkcaldy Ramblers, Fife Walking, Seafield Environmental Group , Walk On Kirkcaldy and Tony Wilson for providing routes.
The routes can be downloaded from the programme document by clicking the link below. You can simply follow the routes online, but if you want full functionality, such as a navigation function, you may prefer to download the route walking app to your phone. The two apps we are using are Viewranger and Komoot which can be downloaded from Google Play Store and Apple App Store free of charge. You do not have to pay to download any maps, so please decline or ignore any requests for payment.
We are really sad that we can't get together to celebrate the festival, but we would still love to hear about your walking adventures! Please share your photos, routes, stories, and anything else with us on our Facebook page, tag us on Twitter (@GreenerKdy) or Instagram using the hashtag #KirkcaldyWalkFest2020.
Could you spare a couple of minutes to take our survey? We would love to hear what you think of this years format, whether it has changed  how much you walk and what positive impacts you think walking has. You can contribute even if you haven't walked any of the festival programme routes.  This feedback will help us to improve future events, will allow us to make positive changes to the programme and to report to our funders. You can take the survey here.
Competition Time! Win £25 Trespass Voucher
Get Creative Competition. We want to see your most beautiful, spectacular and funny walk inspired photos, poems, stories or art. If you have been inspired to create whilst out walking, then send it, or a photo, to us and you could win. To enter, post your creations on our Facebook page (#KirkcaldyWalkFest2020), direct message us on social media or email craig@greenerkirkcaldy.org.uk. The winner will be announced the following week. Closing date: 5pm Wednesday 12th August.
Walking Marathon Challenge. We challenge you to walk as far as you can during the Walking Festival Week (1st – 9th August) . Over as many walks as you like, complete as many steps as you can during the festival period. Send us a screen-shot from a distance measuring or step counting app to enter.  Post it to our Facebook page (#KirkcaldyWalkFest2020), direct message us on social media or email craig@greenerkirkcaldy.org.uk with your entries. The winner will be announced the following week. Closing date: 5pm Wednesday 12th August.
Online Events
Online Film Screening: "Mile…Mile & A Half", download 1st -9th August: In an epic snow year, five friends leave their daily lives behind to hike California's historic John Muir Trail, a 211-mile stretch from Yosemite to Mt. Whitney. Before they all reach the summit, hikers and viewers alike affirm the old adage – it's about the journey, not the destination.  This film is a celebration of stunning views, great friendships and one of Scotland's greatest naturalist. This film will make you want to pull on your boots, grab your friends and head for the hills. Free, booking essential.
Strolling Through Lockdown  Sunday 9th August, 7pm (online): Join Craig (Greener Kirkcaldy) and Sally (Greener Kirkcaldy/Seafield Environment Group) to reflect on the importance of walking during lockdown. Hear about their experiences of rediscovering their own local patch,about their new favourite routes and how walking has helped them cope with the pandemic period.  We also want to hear from you. What exciting new discoveries have you made? Did you find a new favourite route? What did you see, hear and learn on your own explorations? Share your favourite routes, photos and stories. Free, booking essential.