High Street Hub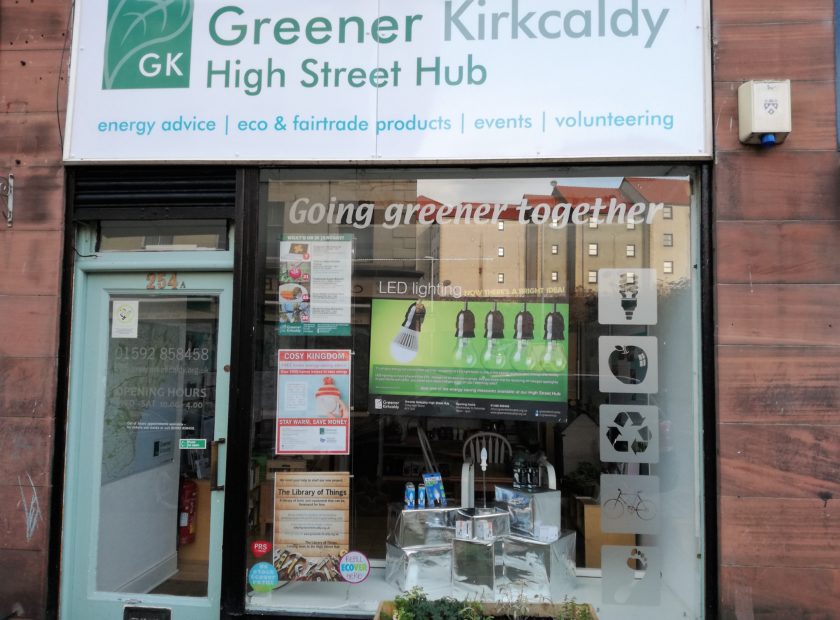 The 'Greener Kirkcaldy High Street Hub' is home is a welcoming space to come for energy advice, find out more about our events, chat about volunteering opportunities, or just find out more about what we do.
The Hub is at 254a High Street (at the foot of Oswald's Wynd), Kirkcaldy. It's open Wednesdays to Saturdays 10am – 4pm.
The Eco Shop
The Hub is also home to our Eco Shop, which sells a range of green, organic and Fairtrade, including products from local suppliers, gluten-free, organic and vegan groceries and energy saving products. We source our products carefully, ensuring the goods you take home are not only good for you, they're good for the producers, too.
Food and Drink – local ethical honey, jams and jellies from Fife, Fairtrade and organic teas and coffees, a variety of cooking-from-scratch ingredients and store-cupboard staples for tasty home-made meals and baking and plenty of savoury and sweet treats!
Home and Cleaning Products – Ecover cleaning products and refills, Marseille soap blocks, baking parchment, recycled foil and kitchen roll, Beeswax cleaning polishes and wood treatments.
Home energy-saving measures – LED light bulbs and energy monitors.
Gift Baskets and Vouchers – If you're looking for a gift with a difference, why not give one our personalised gift baskets and hampers, or even an Eco Shop gift voucher?
Grocery Boxes – order fortnightly grocery boxes of local and seasonal fresh fruit, veg, herbs and salad, freshly baked local bread and ethical wholefoods and staples through our Fife Food for Fife Folk project.
Greener Kirkcaldy Members [link to members page] get a 10% discount on purchases in our Eco Shop!